Emma Stevens & Jesse Terry
The Boileroom, Guildford.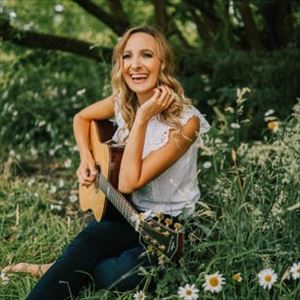 This event is for over 14s only - No refunds will be issued for under 14s.
More information about Emma Stevens & Jesse Terry tickets
Emma Stevens
Even if you'd never heard of Emma Stevens, you would have almost certainly heard her music, with many songs used on numerous BBC, ITV, Sky and Channel 4 programmes, most recently on BBC 1's The Apprentice. "It's so wonderful to know that my music gets used on TV a lot. Usually a fan tweets me or sends me a Facebook message saying they're listening to my song in the background of their favourite show and it never ceases to bring a smile to my face".
Emma's love of music was instilled in her from a very early age: "When I was about two I used to watch my Mum playing Spanish acoustic guitar and I completely gravitated towards it. I just loved music, my mum said I would come alive when I heard it". Spotting this early talent, Emma's parents sent her to cello and piano lessons from the age of six and she later joined the Surrey Youth Orchestra. "I started fantasising about performing and people singing my songs from when I was 12 or 13, that's when I started writing". But she freely admits that those early songs were "not very good!"
Enrolling at the Academy of Contemporary Music developed and solidified her songwriting and performance skills and initially led to session and tour work with bands including fiN, H-Boogie, The Kooks, Mona, Incubus and Feeder.
As a songwriter, Emma worked across multiple genres and collaborated with the likes of Sharon Vaughn, Russ Ballard, John Beck, Wayne Rodrigues and Charlie Midnight. "In those early days, I was totally out of my comfort zone, but I thrived on it and I loved not knowing what sort of song would come out of each co-write – I'd walk into an R&B session one minute, and then work on an bubblegum pop song the next". An early, if unexpected, success was a song penned for a Korean boy-band that went on to sell 100,000 copies in a week.
But it was during songwriting sessions in L.A. with Charlie Midnight that Emma began to seriously consider a solo career. "He'd say, 'You've got a real talent. You need to be writing for yourself as an artist'".
In early 2012, losing her mum to cancer provided the impetus for Emma to seriously pursue a solo career: "When my mum got diagnosed it was a crazy whirlwind of hope and loss. She instilled so much positivity in me and made me realise you just have to live your life and be happy. She was always my biggest supporter and believer in me and would say 'You've got the potential to do it yourself' so I thought 'Yeah, I'm going to do it!'"
Two weeks before her mother died, they sat down together and designed the artwork that would initially be used for the first four EPs and later, placed together to form the entire cover of the debut album Enchanted.
As an independent artist, running your own label, maintaining control of the creative process and owning your own publishing could be a daunting prospect, but not for Emma: "Even though I'm a DIY artist, I have an incredible team of people around me really helping me. I would not be able to do it on my own but I never really think about it as scary – I guess I think; 'it is what it is' and I'm really lucky to be doing it".
Somehow, even with such a busy schedule, Emma still finds time to support charities close to her heart. From playing a 12-hour buskathon for Children in Need, a Tiger march around London and performing for the David Shepherd Wildlife Foundation, to collaborating with the Woodland Trust and Eden Project to get hundreds of trees planted in local communities: "As a long-time passionate supporter of the environment, one of my greatest ambitions is to help inspire and engage fans to care for nature".
Emma's latest album, To My Roots, is collection of songs inspired by the eclectic mix of music she grew up listening to. Everything from James Taylor through Eric Clapton and Paul Simon to The Dixie Chicks and The Corrs. "I love country music and was lucky enough to spend a month in Nashville recently writing, collaborating and immersing myself in the culture".
Jesse Terry
A true musical journeyman, New England-based singer/songwriter Jesse Terry has made
it his mission to share his love of music fully and completely, without regard for shading
his emotions or tempering his convictions. The ability to create a connection, to bare his
soul and express his feelings through his songs has been the defining thread in a career
that began in 2010 and has spawned five albums (The Runner, Empty Seat on a Plane,
Stay Here With Me, and his latest pair, Stargazer and Natural). A career that has seen
Terry play over a thousand shows around the world, including such notable festivals as
Bonnaroo, 30A Songwriters Festival, Philadelphia Folk Festival and the Americana
Music Association's AmericanaFest.

Natural, a very sparse and acoustic album compared to its predecessor Stargazer, finds
Jesse relying on a more organic approach to his music, while adding an additional layer
of emotional impact with the help of some of the female singers he admires most: Dar
Williams, Cary Ann Hearst of Shovels & Rope, Liz Longley, Kim Richey, Annie
Clements, Sarah Darling and Erin Rae. The relationship between the two singers, the
male and female -- the contrast in emotion, tone and texture -- became the focus of the
album, while still keeping true to the power of a song, stripped down to one guitar.
https://www.jesseterrymusic.com/