Estopa Gira Fuego - Murcia Tickets
Cuartel de Artillería, Murcia.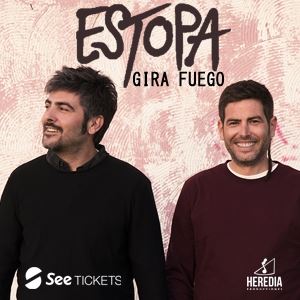 Under 18s must be accompanied by an adult. No refund will be issued for under 18s.
More information about Estopa Gira Fuego - Murcia tickets
Concierto de Estopa en Murcia | GIRA FUEGO (2022)

La música en directo de Estopa te espera en el Cuartel de Artilleria de Murcia el próximo 24 de Septiembre de 2022. Llega la GIRA FUEGO, la nueva gira de conciertos de Estopa en 2022, donde los hermanos Muñoz celebrarán sus más de 20 años de exitosa carrera musical presentando las canciones de su último disco, FUEGO, y recordando sus grandes éxitos, canciones que han hecho de Estopa uno de los grupos referentes de la música nacional con más de 5.000.000 de discos vendidos en todo el mundo.
Hazte con tus entradas para el concierto de Estopa en Murcia en 2022.
Entradas y horarios | Estopa en Murcia(2022)
Horarios acceso:
Apertura puertas general - 19:30 horas
ESTOPA – 21:30 horas
Entradas para Estopa a la venta en See Tickets
Cualquier persona que quiera acceder al recinto deberá pagar entrada independientemente de la edad. Los menores de 16 años tienen que ir acompañados de un adulto.
Política de reembolso: para este concierto no se aceptan cambios ni devoluciones.