Evian Christ - Ravenchrist: Live Tickets
New Century, Manchester.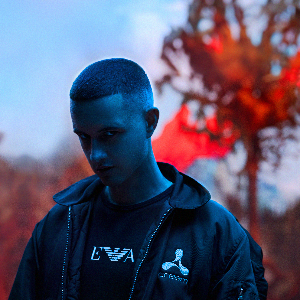 Strobe Warning: in order to evoke, beyond Euphoria, the fullest feeling of the Sublime, Evian Christ's performance — as per the artists unconditional technical specification — will be supported by upwards of 15kw of unrelenting xenon strobe lighting and arena-grade smoke machines. As such, this show may not be safe for people with photosensitive epilepsy.
This event is for 14 and over - No refunds will be issued for under 14s.
More information about Evian Christ - Ravenchrist: Live tickets
Now Wave presents Evian Christ (Live) at New Century, Manchester. Saturday 25th November 2023.

Evian Christ (b. Joshua Leary) is an Ellesmere Port-based musician, producer and music programmer signed to Warp. Initially finding recognition for his production contributions to Billboard-topping albums by Kanye West and Travis Scott, and subsequently as the founder of the enduringly influential TranceParty event series, Christ's recent years have seen him lead an idiosyncratic range of projects that enquire into the legacy of Trance in contemporary cultural life. Revanchist (2023), Christ's imminently-released debut album, explores the genre's latent potential to evoke, beyond Euphoria, the fullest feeling of the Sublime.


Launched in 2022 with a headline performance at Primavera's 2400 capacity L'Auditori, Revanchist: Live is an expanded A/V presentation of the album's predominant musical and visual themes. Designed in collaboration with Manchester-based lighting designer Emmanuel Biard, the project is the result of a four year R&D process culminating in the Longinus array — a bespoke, heat compressed 12m fresnel screen comprising twenty-four high power LED projectors with a custom mounting system and optical grade bounce mirrors. The lighting effect produced is breathtaking, and simply must be seen to be believed.