Fallen + Cydonia Knights
Robin 2, Wolverhampton.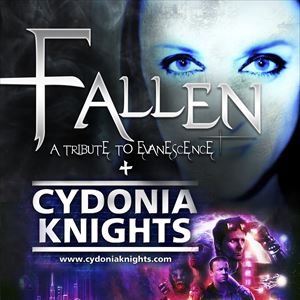 A gorgeous Gothic Rock double featuring tributes to Muse and Evanescence
14+ only. 14s to 17s must be accompanied by an adult. No refunds will be given for incorrectly booked tickets.
More information about Fallen + Cydonia Knights tickets
+ support
Right from the dramatic intro of their set, Fallen recreate the epic, dark and lush sound of Evanescence, combining heavenly, soaring vocals and hard-hitting guitars with piano, orchestral and choral elements.
Fallen are Europe's premier Evanescence tribute and currently the only one in the UK. The band members have all played at professional or semi-professional level and have many years of gigging experience behind them.
Formed in November 2013, the band has subsequently gone from strength to strength and is now playing at some of the best music venues around.
Playing songs from all three of the most well-known albums, Fallen accurately reproduce the sound of this innovative, unique and genre-setting band.
Cydonia Knights are a UK based tribute band to one of the world biggest rock bands 'Muse' who have sold over 20 million albums worldwide & won multiple grammy, NME & MTV live music awards.
Formed by Muse fans, for Muse fans, we have been playing UK music venues & festivals since the beginning of 2015.
Since the start our goal has been to give Muse (& live music) fans exactly what they want from a tribute act, an unparalleled Muse experience as close to the real thing as possible!
Their set will take you on an exhilarating journey through your favourite Muse albums from Showbiz to Simulation Theory; 'Plug in baby', ''Hysteria', 'Starlight' , Knights Of Cydonia, 'New Born' , 'Darkside', 'Supermassive Black Hole', 'Uprising', 'Reapers' , 'Pressure' & Many more of the best Muse tracks are performed with unprecedented accuracy.