FEMM 2.0 w/MIKUROMIKA Tickets
The Night and Day Café, Manchester.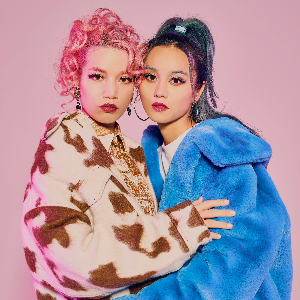 More information about FEMM 2.0 w/MIKUROMIKA tickets
ABOUT FEMM
••••••••••••••••••••
FEMM - J-pop/Rap duo consisting of RiRi and LuLa: two mannequins with a will of their own.
For almost a decade, FEMM has been on the leading edge of J-pop. The duo's aggressive musicality, which is linked not only to their Agents (the name of FEMM's fans) but also to the dark world view and the global trend known as "Hyper Pop," has garnered sharp attention from both Japanese and international media.


The Huffington Post calls FEMM's music "super commercial, catchy and very cleverly written pop" while international influencer Perez Hilton proclaimed "FEMM stands for fierce!". Their biggest global hit, "Fxxk Boyz Get Money," is a girl's anthem reflecting the duo's with a message of girl-power, feminism, and free speech that was supported by FEMM 2.0


"A mesmerizing J-pop electro duo with a backstory more inventive than anything on the SyFy channel
right now" /// Vice


"Originally, FEMM is made in Japan, so we try to represent Japanese beauty and culture. We really think that the costumes, such as the kimono is so beautiful, and we want to spread this Japanese culture" /// tokyo girls update


American teens and quickly spread to Europe, South America and Asia by the Agents. As a result, their debut album "Femm-Isation" made it to the "Top 10" Billboard "World Albums" chart.


The single catapulted FEMM into international notoriety in the U.K. and Europe as they were selected as one of the "6 Acts To Watch" by Huffington Post and as the "Best Indie Album" by all HMV stores, opening up a new decade in the female rap scene both at home and abroad.


"Fxxk Boyz Get Money" ...with its provocative and tongue-in-cheek lyrics, edgy music video and contagious beat, FEMMs signature track is as good as anything blasting in the American megaclubs. Built with a world-saavy electrohop foundation, it drips with swagger, inviting in listeners with its racy, fake-out title while transmitting a sly message of empowerment" /// j-generation


Singing and rapping in impeccable English, the duo has worked with some of the biggest songwriters in global pop music including Brian Lee (Lady GaGa, Justin Beiber) and Dan Book (Brittany Spears, Demi Lovato) bringing J-pop EDM into the international mainstream.


"FEMM have worked with some amazing producers. Like Andreas Carlsson (Backstreet Boys, Katy Perry), Brian Lee (Lady Gaga, Icona Pop), etc. So many influential producers have shown interest in FEMM and produced their songs. L.C.S." was produced by Boys Noize, [then] an upcoming and super talented German electro artist" /// Japanvibe


They are also well versed in internet culture, and were one of the first to start the revival that is now sweeping the world - releasing the Vapor Wave interpretation of "80's-90's J-Pop Revival". In 2020, they released "404 Not Found", a six-song EP with the message of "a brand new sound that doesn't exist anywhere else (yet)".


FEMM takes that sound on the road for their first European tour in the summer of 2022!
In the words of the duo themselves: "FEMM is borderless. It doesn't matter where you're from or what you believe in. FEMM will keep on sending out their messages through their tracks to bring peace to all humans...and mannequins."
ABOUT MIKUROMIKA


Combining elements of house, vocal trance, and J-pop, singer-songwriter MIKUROMIKA is ready for the world. MIKUROMIKA's chill pop vibe and sleek vocals which she simply calls 'MIKUROPOP,' draws inspiration from such diverse acts as Japanese R&B legend MISIA, and icons like Lady GaGa and Cindy Lauper. MIKA's love of music, art, and fashion fuel her passion for performance and positivity and is taking that passion global! Finding her Tokyo-energized groove in the world of electronic music, MIKUROMIKA is crafting her own path, her own direction, and her own style. Working with a variety of producers from across the globe, her journey is custom made for the world to share. Her debut album,
'MIKUROPOP,' was released on Setsuzoku Records in 2021 with lead single 'Product Boy' quickly becoming a Spotify playlist favorite. Her latest single 'Ocean' was released February 2022.


FASHIONxMUSICxART = MIKUROPOP