Fin Taylor: Daddy Self-Care Tickets
The Glee Club, Cardiff.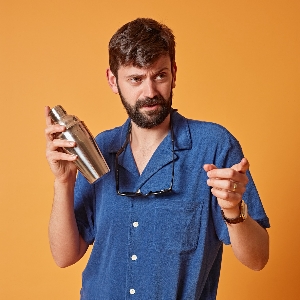 SEATING IS ALLOCATED - Seating will be allocated by venue staff before the show.
Please call the Glee Box Office on 0871 472 0400 or email info@glee.co.uk to be seated with other ticket holders or if you have any seating requests.
This event will be sold to full capacity, with no distancing. Full COVID-safety guidelines available here.
Last Entry Time: 7:45pm
All under 25s may require government-issued photo ID.
For single tickets visit Glee.co.uk or call the Box Office on 0871 472 0400
Dit evenement verleent alleen toegang aan bezoekers boven de 16 jaar. Er vindt geen restitutie plaats voor bezoekers onder deze leeftijdsgrens.
Meer informatie over Fin Taylor: Daddy Self-Care tickets
Fin Taylor is back on the road with a brand new trunk of painfully funny stand-up for 2023. Sure he's married with a kid, but that hasn't made him any less naughty. If anything, it's only made him even hungrier for that juicy sacred cow meat- and this tour, he's going after our cultural obsession with mental health. After being locked inside for two years it's all anyone wants to talk about. But are we actually talking about it or have we just reached the final frontier of a narcissistic society's obsession with labels?
Fin Taylor has made a name for himself as one of the most talked about comedians working in the UK. He achieved critical acclaim and sell-out runs at Edinburgh Fringe for his last three shows, Whitey McWhiteface, Lefty Tighty Righty Loosey and When Harassy Met Sally. He's also appeared on Comedy Central's Roast Battle and Live From the Comedy Store, BBC's Live at the Apollo, Have I got News for You and The Mash Report, as well as garnering fame for his hit web series Fin vs The Internet.