Fly 52, Galaxy Thief and Siobhán & The Sunset Haze Tickets
Heartbreakers, Southampton.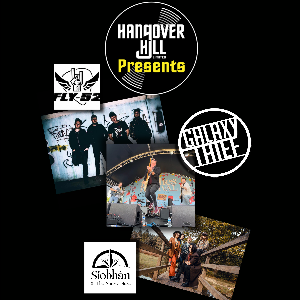 This event is for 18 and over - No refunds will be issued for under 18s.
More information about Fly 52, Galaxy Thief and Siobhán & The Sunset Haze tickets
Fly 52
Welsh Alternative Punk Rock band FLY-52 started life in 2020 when Chris, Huwey, Jimmy and Kurt 
decided to hang out and jam together. Chris and Huwey started writing their own material, which 
quickly came together and they recorded their first single release 'Anxiety Girl', which was 
released August 2021 to be later remastered and mixed for the EP release in 2022. Anxiety was 
nominated for song of the year by Neil Jones of Bad monkey Radio.
Their debut EP 'MISSPENT YOUTH' was recorded January 2022 and was released April 2022 putting 
a solid stamp for them in the industry. 
Here with us for one night only we promise you will enjoy a lively and energetic live performance.


Galaxy Thief
Hand-picked by Yamaha in 2021 to be the first ever Yamaha Music London Ambassadors,
Galaxy Thief are a British Indie Rock 4-piece from Dorset. Influences from The 1975, 
Angels and Airways, Foo Fighters, The Band CAMINO and Nothing But Thieves infuse
their own unique and unprecedented sound. They have appeared at Bestival, Silverstone
F1 Grand Prix and headlined Southampton's 'Music In The City'. Their music has featured 
ITV's 'This Morning' as well as internationally on SKY TV.



Siobhán & The Sunset Haze
Hailing from the South Coast, Siobhán began her career as a solo singer-songwriter telling her honest 
tales of love, loss, and lessons learned, through her storytelling of real-life events with powerful 
vocals and leaving no stone left unturned.
She's now backed by her band 'The Sunset Haze', formed in 2019, they've spent the last 3 years honing 
their sound, and perfecting their unique image, and style as a collective.
After having released their debut EP "Playing the Part" last year, they are back and standing tall with 
their melodic folk-rock fusion, and high energy, wild-hearted live shows, ready to make their mark in 2023.