Fraser Anderson
Bush Hall, London.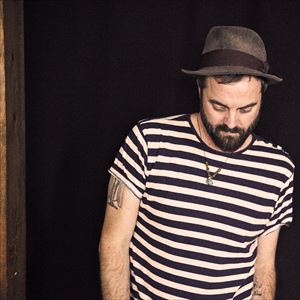 More information about Fraser Anderson tickets
Fraser Anderson's sophisticated musical tales of human vulnerability and connection takes folk music to a level that is cinematic in reach and vision. A taste maker with a crooner-like ease of style, his passion for design seep into and out of his music, making him an exciting multi-dimensional artist.
Hailed by Howard Thompson (Former Head of A&R, Elektra Records) as "the best singer-songwriter I've heard in a long time" and described by BBC Radio 2's Bob Harris as "truly beautiful" Fraser is known for combining painted narratives, unique acoustic tunings and virtuosic falsetto. Likened to Damien Rice, Nick Drake, Ray Lamontagne and John Martyn, audiences have described his live performances as deeply moving and uplifting, and for some "the best gig they have ever been to."
2019 celebrates the recording and launch of Fraser's 5th studio album 'Sankalpa' meaning 'Your heart felt intention or your deepest and purest desire'. The title forms the new enquiry for Fraser personally and for his career and live performances, inviting audiences and listeners to expand their sense of what's possible. Audiences can expect new, fresh surprises alongside the stripped back acoustic sound he's now known and loved for.
SUPPORT BY KATEY BROOKS
Katey Brooks is a rebellious troubadour that resists formula. A devastating songwriting talent that has drawn comparisons with Jeff Buckley (Supajam), this 'rising singer-songwriter has the crowd eating out of her hands' (The Independent), and is simply 'not to be missed' (Time Out). The 'powerful' (Evening Standard) songstress defies easy classification, with a sound blending folk, soul, blues and country. Her finger-picked, harmony-inflected sound on the 2016 I Fought Lovers EP received an enthusiastic reception from radio stations around the UK and internationally, including BBC Radio 2, BBC 6 Music and CBC Canada. To watch her sing live is to witness emotional exorcism, but when you know her backstory, it's hardly a mystery why.
Growing up inside a cult, as a child Katey found refuge in song. Later, she travelled the world with her guitar on her back, writing everywhere from the Occupied West Bank to an abandoned Finnish island. Over a career spanning four continents, Brooks has journeyed from intimate living rooms to opulent concert halls, from dive bars to decorated studios with some of music's biggest names, boasting famous admirers like Joss Stone. She has recorded with Bill Wyman of the Rolling Stones and Paloma Faith at Abbey Road for BBC Radio 2's Children in Need single. She has shared bills with a host of big names including Newton Faulkner, Ghostpoet, Martin Simpson, Deaf Havana, Lou Rhodes (Lamb), Mike and the Mechanics, and Mystery Jets. She has played some of the world's biggest festivals including Glastonbury, WOMAD, the 2012 Paralympics, and Australia's National Folk Festival. And Stuart Bruce, who has recorded some of the greatest musical names of all time – from Stevie Wonder to Elton John and Van Morrison – is a fan.
With her new album Revolute under construction, the mercurial songstress is more determined than ever to do things her own way. 'Revolute will blend soul with Americana and even some country, to create something hopefully pretty different…My realm is connection and emotion, something quite raw, I think.'