FROM THE JAM 'All Mods Cons'
Open, Norwich.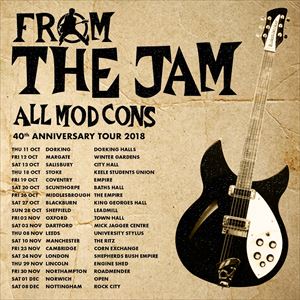 This event is for over 14s only - No refunds will be issued for under 14s.
More information about FROM THE JAM 'All Mods Cons' tickets
AGMP presents
FROM THE JAM
'All Mod Cons' 40th Anniversary Tour
+ special guests: NINE BELOW ZERO
"From The Jam, best night out I have had in years all The Jam hits and more done to perfection. What's not to love?" - Alan McGee
From The Jam is comprised of legendary former 'The Jam' bassist Bruce Foxton, vocalist & guitarist Russell Hastings, drummer Mike Randon, and Andy Fairclough on Hammond and piano.
This Autumn, From the Jam will be celebrating the 40th Anniversary of The Jam's 3rd studio album, 'All Mod Cons', playing it in it's entirety. As well as classics such as 'Down In The Tube Station At Midnight' and 'A Bomb In Wardour Street' the band are also excited about playing 'Billy Hunt', 'Mr Clean' and more.
In 2007 Russell Hastings was fronting 'The Gift' (which featured Rick Buckler) when he was joined on stage by Bruce Foxton (who was touring with Casbah Club) for a 'one off' performance. This performance sparked the genesis of From The Jam, and an enduring partnership between Foxton & Hastings.
Off-stage Bruce Foxton and Russell Hastings wrote the album, 'Back In The Room' released in 2012, which received critical acclaim and solidified Foxton & Hastings as an excellent and contemporary song writing duo. They then returned to the studio in 2016 to record and release 'Smash The Clock', which reached number 31 in the UK charts.
At the end of 2017, Bruce Foxton & Russell Hastings released the 'From the Jam Live!' album which celebrated the 10th anniversary of From the Jam's inception.
________________________________________________________________________________________________________________________________________________________________
All events at Open, Norwich is subject to these age restrictions:

Strictly over 14's only - SPECIAL CONDITIONS OF ENTRY for licensed events:

You will not be permitted access to the Venue/Club area EXCEPT if escorted by
a Responsible Adult over the age of 25 years who must remain on the premises. The Responsible Adult is able to supervise a maximum number of 4 young people inside the Venue/Club.

We are required to keep a register of all under 18's and their Responsible
Adult inside the Venue/Club during an event. You will be required to give your
name, address and date of birth as a condition of entry. Your Responsible
Adult will be required to register a name, address and contact telephone
number to ensure your entry.

All persons aged 14-17 will be required to take a breath test prior to entry
or re-entry. If you are found to have consumed alcohol or you refuse to take
the test, you will be refused entry.

You and your Responsible Adult will be asked for ID. Acceptable proof-of-age
documents are: a photo driving licence, a passport or a proof-of-age scheme
card that carries the PASS hologram.

Management has the right to refuse entry.