FSP PRESENTS: The Red Stains + Support Tickets
The 13th Note, Glasgow.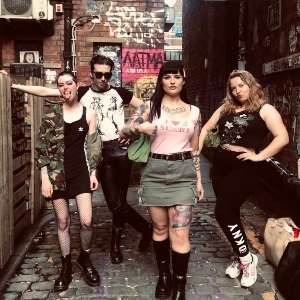 More information about FSP PRESENTS: The Red Stains + Support tickets
"The Red Stain
s take pride in smashing up gender stereotypes and throwing them in your face (and ears!) through their powerful, subversive style and lyrics about shop mannequins, discount supermarkets and the Manchester Metrolink trams. They are a four piece contemporary post-punk group from Manchester consisting of Natalie Emslie on vocals, Sterling Kelly on bass, Cesca Henderson on synths, and Ben Dutton on drums.
A fierce, highly energetic and entertaining live act in their own right, The Red Stains are fueled on chaos and resistance to the injustices in modern day society – social inequality, misogyny, political monotony.
Opinionated and unafraid, this band brings a refreshing urgency that rips up the rulebook and throws glitter and spaghetti hoops over it. Expect maximum chaos and get ready to dance your socks off."

+ Support