GENESIS 'SELLING FOXTROT BY THE POUND'
Coatham Memorial Hall, Redcar.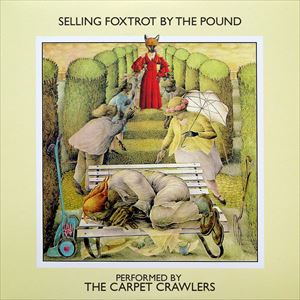 More information about GENESIS 'SELLING FOXTROT BY THE POUND' tickets
Europe's biggest GENESIS show THE CARPET CRAWLERS come to Redcar with a stunning celebration of the early period of the band.
'SELLING FOXTROT BY THE POUND' does exactly what you might think, with the Crawlers performing BOTH of the 'FOXTROT' and 'SELLING ENGLAND BY THE POUND' albums in full in a very special show, and to add to this they even add some bonus tracks culminating an a breathtaking two and a half hour show.
With authentic stageset and full costumes and makeup The Crawlers will take you back on a nostalgic trip with some of the greatest epics in Prog featuring songs like, 'I know what I like', 'Get em out by Friday', 'Watcher of the Skies', 'Cinema Show', 'Can Utility and the Coastliners', 'Firth of Fifth' and the mammoth 'Supper's Ready'.
Hailed as the best Peter Gabriel voice after the great man himself, frontman Brian Cummins has performed with members of Peter Gabriel's original band (Jerry Marotta, Larry Fast) and King Crimson (Trey Gunn) in 'The Security Project' so close your eyes and you will just be back in 1973.