Geno Washington and The Ram Jam Band
Nells Jazz & Blues, London.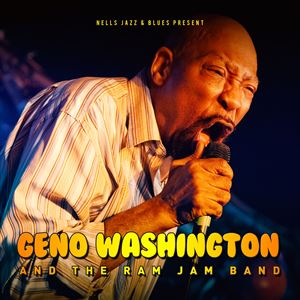 3 North End Crescent
West Kensington,
London.
W14 8TG
Nearest Tube - West Kensington

Bus - 74, 190, 430, N74 & N97
More information about Geno Washington and The Ram Jam Band tickets
Geno originates from Evansville in Indiana, USA and first came to England in the 1960's as part of the US Air Force. His love of Blues and Soul music soon found him jamming with local bands in and around Ipswich and eventually led him to London where he caused a sensation singing with top R&B acts Georgie Fame and the Blue Flames and Zoot Money's Big Roll Band at the legendary Flamingo Club in Soho. The rest, as they
say, is history.

Geno teamed up with some of London's hottest musicians and Geno Washington and the Ram Jam Band very quickly became established as the most exciting live band in Britain, regularly topping the bill over World famous artistes, as nobody in their right mind wanted to go on stage after a Geno show!

'The forceful pace matches Washington's powerful vocal style. He ad-libs, nothing is sacred and the crowd urges him on, ecstatic. This is one man who knows how to keep his mojo working'.
The Guardian

'Unforgettable. One of the World's great entertainers'.
Daily Express

The voice and the personality are bigger than ever. He has rapidly and deservedly become the Fringe's Mr Big'.
The Daily Mail

'make him a legendary soulman in his own right". The Guardian.