Gerry Cinnamon Tickets
Cardiff Castle, Cardiff.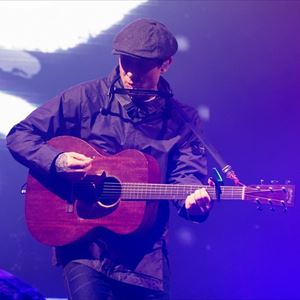 TERMS OF SALE
1. Tickets limited to 4 per person.
2. Surname of lead booker printed on each ticket. To gain admission, the attendee must bring valid photo ID matching the customer surname on the booking confirmation.
3. The only place tickets can be re-sold to another customer for entry to the show is through See Ticket's Fan-Fan Ticket Exchange, at face value or less.
4. The event ticket is a personal, revocable license and, at all times, remains the property of the Promoters. This ticket must be surrendered to the Promoters upon request.
5. The event ticket is sold by the Promoters directly to the Consumer. Any tickets purchased by business or traders in breach of the Terms and Conditions of Ticket Sale may be cancelled.
6. The event ticket will IMMEDIATELY BECOME INVALID if resold OR OFFERED FOR SALE unless the sale is through our official face-value resale partners.
7. If you purchase more than one ticket, your guest(s) must be with you at the time of entry or will be refused entry.

14+ only. 14s to 17s must be accompanied by an adult. No refunds will be given for incorrectly booked tickets.
More information about Gerry Cinnamon tickets
Who is Gerry Cinnamon?
Gerry Cinnamon (birth name Gerard Crosbie) is an acoustic singer songwriter from Glasgow, Scotland. Whilst performing at a college he met Chris Marshall, an aspiring producer. Crosbie and Marshall went onto form lo-fi band 'The Cinnamons' with Lori Duncan, Dave Bass, and Gav Hunter. Crosbie later adopted the Cinnamon name, changing his stage name to Gerry Cinnamon. His catalogue includes some songs written during his time in The Cinnamons e.g. 'Sometimes'.
What's his background?
Gerry has stated that as a young boy he used to listen to his mother's cassette tapes, including the likes of The Beatles, Bob Dylan, The Rolling Stones and The La's. He learnt how to play guitar whilst living in London with his father's friend, starting his song writing journey once he returned to Scotland.
After performing as the frontman in The Cinnamons, Gerry went onto start his solo career. Gerry played and sold out numerous small venues entirely through word of mouth, and so was asked to write and perform a song at a rally event ahead of the referendum, on Scottish Independence. Gerry released his single 'Hope Over Fear' to a wide audience.
Gerry released his next single 'Kampfire Vampire' in 2015, the same year as performing at T In The Park.
Gerry performed at T In The Park again the following year at the King Tut's Wah Wah Tent stage. Later in the year he won 'Best live Act' at 2016 Scottish Alternative Music Awards.
His debut album 'Erratic Cinematic' briefly outsold the likes of Ed Sheeran, rising to the number one spot of the UK iTunes Chart for singer songwriters. Singles from the album were 'Belter' and 'Sometimes', which was written during his time in The Cinnamons.
Gerry supported The Courteeners on a run of shows before announcing his own England and Ireland tour. Tickets for which sold out in seconds.
Gerry released his second album 'The Bonny' on the 17th April. It was the third highest selling UK album of 2020, debuting as number one on UK and Irish album chart. It was also the fastest selling vinyl of the year,. The album contains 12 tracks including singles 'Canter', 'Sun Queen', 'Dark Days' and 'The Bonny'.
Along with The Bonny's album announcement, Gerry also revealed he will be performing at Hampden Park to a capacity of 50,000+, making it the biggest show of his career. He's the first Scottish act to headline the national stadium.
In Gerry Cinnamon's discography you can find;
Erratic Cinematic (2017)
The Bonny (2020)
What's the latest from Gerry Cinnamon?
Gerry Cinnamon has dates scheduled for 2022. You can catch him playing Victoria Embankment, Nottingham, Singleton Park, Swansea , and Cardiff Castle.
When is the next Gerry Cinnamon tour?
Gerry Cinnamon has dates scheduled for 2022. You can catch him playing Victoria Embankment, Nottingham, Singleton Park, Swansea , and Cardiff Castle. Tickets for Gerry Cinnamon are available to buy on the See Tickets website here.
PLEASE NOTE - STRICTLY NO FOOD OR DRINKS OF ANY KIND WILL BE ALLOWED INTO THE EVENT ARENA FROM OUTSIDE THE EVENT AREA.


THERE WILL BE NO PICNIC FURNITURE OR BLANKETS ALLOWED INTO THE EVENT AREA.


PLEASE DO NOT BRING ANY PERFUME OR UNNECESSARY BOTTLED ?VANITY' LIQUIDS, AS THEY WILL BE DISCARDED UPON ENTRY AND NON RETURNABLE.


BAGS LARGER THAN A PIECE OF A4 PAPER WILL NOT BE ALLOWED IN THE EVENT AREA.


THIS IS 14+ SHOW - ANYONE UNDER THE AGE OF 18 WILL NEED TO BE ACCOMPANIED BY A TICKET HOLDING ADULT (18+).


Ticket Conditions Subject to Licence
1. This ticket is issued subject to the rules and regulations of the venue to which this ticket applies and these are available from the venue upon request.
2. The promoter reserves the right to refuse admission to the holder if, in the reasonable opinion of the promoter, the holder of the ticket might be a risk to the safety of the audience and / or the holder and / or affect the enjoyment of the audience and / or the running of the concert, for example if the holder appears to be under the influence of alcohol and / or drugs and / or is acting aggressively and / or inappropriately.
3. The promoter does not accept responsibility for any loss, injury or damage to the holder or the holder's property.
4. No professional cameras, video recorders or any form of professional audio-visual recording equipment will be allowed into the event arena.
5. No bottles, cans, containers, alcohol or food are allowed to be brought into the venue. Whilst food is not allowed into the concert arena, it is allowed to be purchased and consumed on route in the Park. A range of food and drink will be available within the event arena.
6. ID will be required in order to purchase alcohol for those who appear under the age of 25 years.
7. Fireworks, smoke canisters, flags, poles, umbrellas, picnic equipment or other similar articles that can be classified as a ?weapon' are not permitted in the venue and any person in possession of any such articles may be refused entrance.
8. The holder may be ejected from the venue if the holder fails to comply with the reasonable instructions of a steward or other person acting on behalf of the promoter.
9. The promoter reserves the right to search the holder and the holder's property and refuse admission to, or eject from the venue any person who refuses to be searched by a police officer or a steward.
10. If the concert is cancelled, the holder as the holder's sole remedy may ask that the promoter either
a) refunds the face value of the ticket or
b) subject to availability offer the holder a replacement ticket for an alternative show promoted by the promoter featuring the act of the cancelled performance. This multiple artist event is judged by reference to the overall theme rather than the individual acts scheduled to appear. Therefore if for unavoidable circumstances a scheduled artist is unable to perform but the promoter continues to run the event, no refunds will be issued. Booking fees and postage costs are non-refundable.
11. There is no re-admission once entering the venue.
12. No duplicate tickets will be issued for lost or damaged tickets.
i) A ticket may be invalidated if any part of it is removed, altered, torn or defaced.
ii) Tickets are security printed. Tickets purchased from sources other than official agencies are at your own risk and may be invalid. Beware of forged or fake tickets.
iii) Tickets cannot be used as part of any marketing, media or sales promotion, whether commercial or non-commercial, without the prior written consent of the Promoter.
13. There will be an administration charge/booking fee for the issue of the event tickets; this may be variable with each individual Box Office.
14. The holder consents to being recorded and / or filmed and the recording and / or film being exploited in any and all media throughout the world or any part.
15. No tickets may be resold, used for competitions, promotions or hospitality packages without the written consent of the promoter. Any tickets re-sold or transferred in such a manner will become voidable and the holder may be refused entry to or ejected from the event arena.
16. The times shown on this ticket are approximate only and the promoter advises the holder to arrive well in advance of the times shown in order to avoid disappointment arising from any change(s) to the times.
17. Title to this ticket remains with the promoter until payment in full has been received by the promoter.
18. In the event of any breach of any of these conditions by the holder, the promoter reserves the right to cancel this ticket and retain any money paid for it.
19. Please be warned that repeated and prolonged exposure to amplified sound may cause permanent hearing damage.

This is an outdoor concert. Please come prepared for inclement weather. The concert will go ahead come rain or shine.
There will be no picnic furniture or blankets allowed into the event arena.
There will be no parking on site.
There will be no animals allowed on site except guide dogs. Please advise when purchasing your ticket if access with a guide dog is required.
There will be an Accessible Viewing Platform at the event; limited spaces are available, tickets are available through alt. tickets by emailing your request through to CustomerEnquiries@alt-tickets.co.uk
Requests will be processed on a first come first served basis.
A free carer scheme will be in operation, however, again there are very limited spaces. PLease Visit http://www.alttickets.com/gerry-cinnamon-tickets-access . Any of the below are accepted, in addition we will review an application without these forms of evidence on a case by case basis.
o Front page of a DLA/PIP
o Front page of Attendance Allowance letter
o Evidence that registered severely sight impaired
o Recognised Assistance Dog ID Card
o Access Card