Green Day Billetter
Bellahouston Park, Glasgow.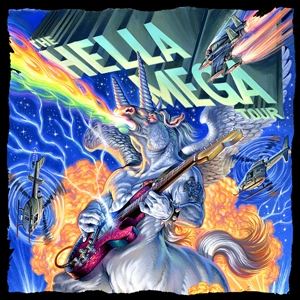 Denne begivenhed er kun for personer på over 14 år - Der er ingen refusion for personer på under 14 år.
Flere informationer om Green Day-billetter
- DF Event Terms and Conditions
https://www.gigsinscotland.com/mediaLibrary/other/english/6908.pdf

- Special Event Conditions for Green Day
https://help.gigsinscotland.com/hc/en-us/articles/360002515638-Hella-Mega-Tour-Event-Terms-Conditions


Age Restrictions
No persons under 14 permitted.
Persons aged 14 and 15 year olds must be accompanied by an adult 21 and over
(1 adult minimum per 4 persons aged 14 and 15 years old).
If you're lucky enough to look under 25 you may be asked for proof of age at
the gates so please don't risk it - bring acceptable photographic ID.
If you're attending with someone aged 14 and 15 years old, we encourage you to
complete a guardianship form.
A challenge 25 policy will be in operation at the bars ensuring access is
restricted to persons 18 and over. Proof of age may be required so please bring acceptable photographic ID.
-please note this event is subject to licence.

Entry ID
You must bring valid and current ID with you - Valid IDs must be photographic.
We will be accepting the following types of ID for entry into the event:
Current UK or Overseas Driving License/ Provisional License Photocard
Current UK or Overseas Current Passport
Overseas Only Valid National ID card
UK only 18 + PASS scheme card
Young Scot Cards
Ireland Age Card
Forces ID Card
This is line with the national Challenge 25 policy.
-Photocopies of ID does not count as valid ID. Must be original documents

We would like to say a massive thank you to all the customers who have applied to use our Accessible Platform and Facilities and we have now reached our capacity on the Accessible Platform.
If you would still like to utilise our other accessible facilities such as free PA/Companions ticket, use of the Accessible Toilets including Pamiloo (the mobile changing places unit) Blue Badge Parking area and Storing medication in our fridge then please apply via our accessible application on the link below https://www.smartsurvey.co.uk/s/MZRVW/

If you have purchased a ticket and would require to be on or Accessible Platform then we can place you on our waiting list. Anyone who has any concerns with regards to this can get in touch at access@dfconcerts.co.uk

Please note that the access facilities are not for the use of people with temporary impairments or circumstances such as broken bones, healing wounds or pregnancy..
The event arena floor will be uneven and consist of a combination of gravel, grass and limited tarmac pathways and terra-plast trackway. Combined with poor weather conditions this could make some areas of the arena inaccessible. The Accessible Viewing Platform is uncovered so please dress appropriately for the Scottish weather. For the comfort and enjoyment of all Customers using the Accessible Viewing Platform, no smoking/use of e-cigarettes is permitted.