Grohlfest featuring Food Fighterz + Novana
Robin 2, Wolverhampton.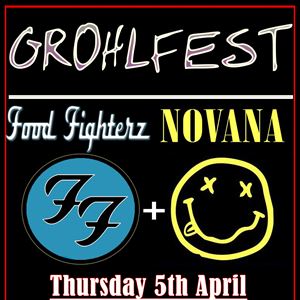 No under 14s in the standing area, 14 - 17s must be accompanied by an adult. No refunds will be given for incorrectly booked tickets.
More information about Grohlfest featuring Food Fighterz + Novana tickets
on stage 8.30pm
The Food Fighterz pride themselves on being authentic to the sound/ image and stage presence of the real Foo Fighters and are the closest thing you're gonna get to seeing the Foo Fighters live in your own back yard.
The Food Fighterz high energy live shows include all the classics from the very first album right up to the current album, Sonic Highways.
The Food Fighterz are available for private, corporate or social events on any scale. If you have an idea, get in touch.
Look no further for the ultimate Foo Fighters tribute act.
COBAIN: Cobain are a Nirvana tribute band from Leicestershire, featuring Lewis Haynes as Kurt, Ben Storer as Kris and Warren Mee as Dave Grohl. The band formed in the summer of 2017 and have quickly perfected the iconic grungey sound of their favourite band. Their shows distinctly replicate the energy, passion, aggression & melancholy of the world's greatest three piece band and if you love Nirvana, you'll love watching these three throwing themselves into portraying the music of their heroes.
All 3 band members are clearly influenced by Kurt, Kris and Dave and are distinguished musicians, with much experience of playing live and entertaining!
This is one tribute act not to be missed!!!