Gweido 10th Anniversary Show Tickets
Strings Bar & Venue, Newport.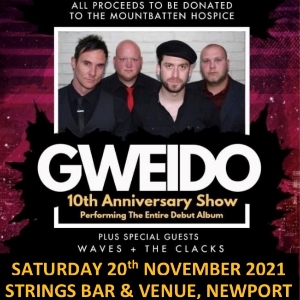 More information about Gweido 10th Anniversary Show tickets
Isle of Wight favourites Gweido are reuniting for a special one off show at Strings Bar & Venue to celebrate the 10th anniversary since releasing their debut album.
Gweido's last show was well over 5 years ago and they have now decided to dust off their instruments to showcase the album on its 10th birthday with all the proceeds raised from the gig to be donated to the local charity The Mountbatten Hospice.