Handmade In Britain
Chelsea Old Town Hall, London.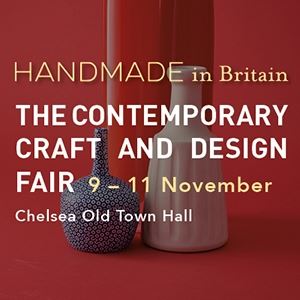 Friday 9 - Sunday 11 November 2018
(11am - 6pm Friday/Saturday and 11am - 5pm Sunday)
Handmade in Britain is an annual contemporary craft and design fair at the beautiful Chelsea Old Town Hall. Over three days, the event will celebrate the best in high-end design and craftsmanship from over 100 highly skilled, UK-based designer-makers. It's a fabulous opportunity to shop for gorgeous textiles, jewellery, ceramics, furniture and more from a handpicked selection of designer-makers. Makers will be on hand throughout the weekend to talk about their work and showcase their collections.