Harbottle & Jonas + support Kris and Rich
Kingskerswell Parish Church, Newton Abbot.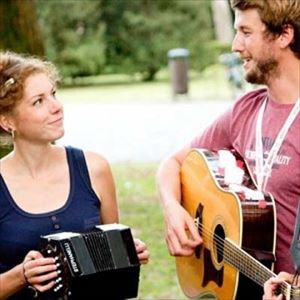 More information about Harbottle & Jonas + support Kris and Rich tickets
Performing brand new material from their upcoming album release in early 2019.
Harbottle & Jonas will provide an evening of stunning musical entertainment. Together the husband and wife duo combine the rich traditions of folk music with original and contemporary interpretations through a blend of closely intertwined vocal harmonies. The two teachers turned road hardened folk troubadours have plenty of new tales to tell.
Each song has been carefully written and researched, and is always accompanied with a great story and a good degree of humour; however macabre the content may be. The songs cover a range of social, political and historical issues. They also sing about family, the Devil, Malcolm and Grimsby.
Their music is original and unique. It is performed with integrity and on instruments that include the concertina, harmonium, banjo, stompbox, acoustic guitar and dobra.
Each performance establishes a warm rapport, engagement and interaction with the audience. So...warm up your vocal chords, pack your hankies, put on your finest tweed and prepare yourselves for an unforgettable evening of beautiful folk music.
'Definitely one of the best folk acts I've heard in a long while' - Music News
'I would stake money on a bright future for Harbottle & Jonas' - Folkwords
'Stunning songwriting and heart-rending arrangements 9/10' - Americana UK
+ support Kris Lannen and Richard Trethewey