Hardcore Listing LIVE! Matinee
Hoxton Square Bar & Kitchen, London.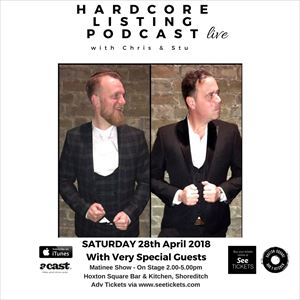 A live podcast covering Top 5's. Some chosen by the audience other by their hosts of celebrity guests. Chris and Stu return off the back of two sold out shows in London and others In Ireland and other parts of the UK. Two Essex boys that use wit and humour to make fin of each other whilst welcoming audience involvement. It's not your usual podcast!
Tickets available ONLINE only!
This event is for over 18s only - No refunds will be issued for under 18s.
More information about Hardcore Listing LIVE! Matinee tickets
Live On Stage! The Hardcore Listing Podcast with Chris & Stu (plus very special guests).
Chris & Stu are returning off the back of two sold out shows and they want you there to get involved too. Saturday 28th April 2018 will see the boys take to the stage to record the podcast live from the lovely Hoxton Square bar and Kitchen.
The boys will be there to answer audience top 5's, having people come up on stage to ask questions and of course the odd appearance from some special guests. Expect the usual catastrophe of drunken chat, being horrible to each other.
Hardcore Listing with Chris & Stu shot straight into the ITunes Podcast Top 5 with its very first episode in March 2017. Fast Forward to now and the podcast has become one of the most talked about and hyped casts and to date have featured weekly guests such as Scroobius Pip, Gail Porter, Bloc Party, Elastica, Deadpool star Ed Skrien, S-Express, Ryca, UFC legend Brad Pickett, Brett Goldstein and many more.
Hardcore Listing was spawned from Chris and Stu appearing on Scroobius Pips award winning Distraction Pieces Podcast on his bi monthly "drunkasts" where the three of them consume ample alcohol and discuss the previous month's happenings. The concept of Hardcore Listing is simple, the guest picks a topic and then alongside Chris and Stu countdown their top 5 items on the chosen topic, these have involved, albums, singles, films, sandwiches, embarrassing moments, lies, crisps etc etc.