HARRY STYLES | Love on Tour 2023 Tickets
Passeio Marítimo de Algés, Lisboa.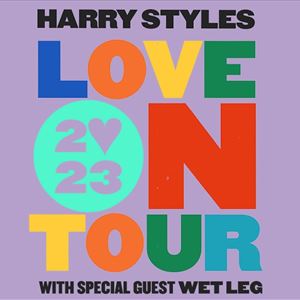 This event is for 6 and over - No refunds will be issued for under 6s.
More information about HARRY STYLES | Love on Tour 2023 tickets
Harry Styles regressa a Portugal com a Love on Tour, desta vez no dia 18 de julho no Passeio Marítimo de Algés, com Wet Leg a cargo da primeira parte. Os bilhetes ficam disponíveis no dia 2 de setembro 10h, em everythingisnew.pt e nos locais habituais.
A digressão de Harry Styles conta já com 83 datas, que percorrem 22 países, incluíndo 44 noites em algumas das salas mais notáveis dos Estados Unidos, tal como 13 espetáculos na América do Sul e sete noites na Austrália e Nova Zelândia.
Portugal junta-se então a 19 novos concertos na Europa, concertos extra em Austin e em Chicago, nos Estados Unidos, em São Paulo, no Brasil e Lima, no Perú.
Vinda de uma tournée esgotada de 43 arenas em 2021, e de dois concertos especiais em Nova Iorque e em Londres este ano, e de um concerto muito especial em Lisboa, na Altice Arena, a muito antecipada tour do novo álbum, 'Harry's House', vai permitir aos fãs o acesso a múltiplas noites nas maiores cidades do mundo, transformando salas e recintos icónicos na casa de Harry. Esta etapa da tour em 2023 será a estreia do Harry Styles em estádios e recintos de grande dimensão na região.
A primeira parte do espetáculo é assegurado pela banda Wet Leg, a dupla britânica de indie rock da Ilha de Wight, fundada em 2019 por Rhian Teasdale e Hester Chambers. O single de estreia "Chaise Longue" rapidamente acumulou três milhões de streams em 2021, e em 2022 o álbum homónimo estreou-se em primeiro lugar no topo da tabela do Reino Unido, da Austrália e da Irlanda.
A data por cá é o dia 18 de julho, dia do muito ansiado regresso de Harry Styles a Portugal, no Passeio Marítimo de Algés, em Oeiras.
Os bilhetes ficam disponíveis para venda no dia 2 de setembro, às 10h00, em everythigisnew.pt e locais habituais.