Hayseed Dixie
Wylam Brewery at Palace Of Arts, Newcastle.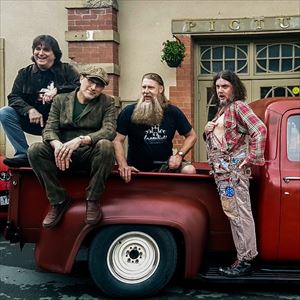 eastside events present
HAYSEED DIXIE
plus guests
Thursday 28th March 2019
Wylam Brewery, Palace of Arts, Newcastle
Tickets £18.50
Doors 7pm
Under 14s must be accompanied by an adult. We cannot issue refunds to under 14s who are not accompanied by an adult.
More information about Hayseed Dixie tickets
Hayseed Dixie began one innocent summer day in 2000 when John Wheeler aka Barley Scotch and his pal, dobro and pedal steel player Mike Daly, drank roughly enough whiskey to float a battleship from the Florida Coast over to Portugal and back and decided to play around in John's East Nashville studio. Having spent the previous few years touring around with assorted country hat-acts, John had assembled a proper pile of recording equipment and also a heroic collection of Bourbon and Scotch. Thus when he and Mike discovered in their drunken epiphany that the Lost Highway of Reverend Hank Williams and the Highway To Hell of Bishop Bon Scott were indeed the same identical stretch of tarmac, they were well and truly prepared to document this historic revelation in situ.
East Nashville, Tennessee in the Summer of 2000 was a proper Bohemian party place. Nobody had any money, but since the playing field was level, nobody much let that get in the way of anything fun, and a few other friends stopped by, drank some whiskey, and played and sang on this recording here and there. And ten classic AC/DC songs were suddenly re-imagined and recorded forever anew, entirely reinvented as Appalachian Mountain hillbilly rave-ups. Everyone danced (oh how they danced!) around the studio room and out onto the front porch and drank more whiskey. You should have been there. Really. You should have. Oh well.