Headshrinkers / Handwaxx / The Fauna / The Raiders
The Actress and Bishop, Birmingham.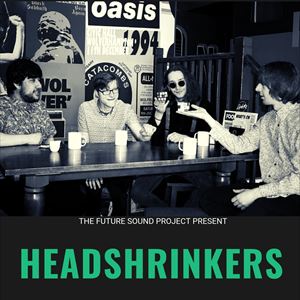 This event is for over 18s only - No refunds will be issued for under 18s.
More information about Headshrinkers / Handwaxx / The Fauna / The Raiders tickets
The Future Sound Project return to the Actress and Bishop (official) with a night highlighting some of the best the Midlands has to offer.
Headshrinkers - Headshrinkers are an Indie/Punk band from the West Midlands. Weaving together Joy Division inspired, raw punk riffs, hard-hitting drums and 60's guitar pop sounds, which are finialised by frontman Garran's evocatively poetic lyrics and gritty vocal style."
www.facebook.com/theheadshrinkers
www.instagram.com/theheadshrinkers
Handwaxx - Handwaxx are a 4-piece Alternative Rock / Rock 'n' Roll band from the Black Country. The band consists of Will Sutton, Ryan Baynham, Jamie Flavell and Adam Garner. They pride themselves on their dynamic live performances and original sound.
There sound has been described as "a taut, echo-riddled rock hybrid that sounds like what would happen if Kasabian ditched the 'lad fans' and let rip on the pedal board". Handwaxx are set to release an E.P. late 2019.
Facebook: Facebook.com/Handwaxx
Soundcloud: soundcloud.com/handwaxx
The Fauna - The Fauna are a 4 piece pop rock band from Birmingham, UK, forming in early 2018. The Fauna have already established themselves within the Birmingham scene. Performing at venues like the O2 Birmingham and The Sunflower Lounge with bands such as Tender, Arcadia Roots, Sunset Beach Hut, Highlite and many more local acts...
The members, including, Steve (Vocals), Ross (Guitar), David (Bass) and Ricky (Drums), met whilst studying music at college with a focus on writing great pop songs.
The Fauna closed the New Breed stage at Lunar Festival 2018 and have been featured on BBC WM Introducing with their debut single 'Love You A Different Way' and their latest single 'Hiding Something'.
Facebook: www.facebook.com/thefaunaband/
Twitter: www.twitter.com/thefaunaband
The Raiders - The Raiders officially evolved into its current and final form on the 20th of March 2015 and since that historic day, Telford's Favourite Son's have been laying the foundation to their imminent world domination, through the power of face-melting solos from Jack 'Legs' Richards and Luke 'El Chivo' Odenwalder; coupled with the surgical timing and rhythm from the cataclysmic drumming of none other than Josh 'The Paste' Tooth and leg-shaking basslines from Alex 'Hogson' Hodson. All this and more makes up the throne that Alix 'The Bear King' Jones rests his voice, the voice dropped from the heavens by a clumsy cherub, the voice to unite lost brothers, the voice to save kittens from burning buildings, the voice to save us all.