Helen McCookerybook
NE Volume Music Bar, Stockton-on-Tees.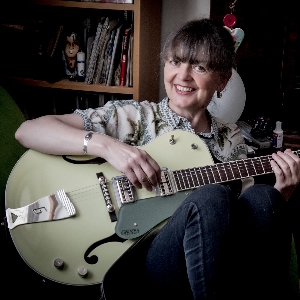 More information about Helen McCookerybook tickets
"Helen McCookerybook's lyrics, frank and idiosyncratic, find poetry in the everyday- shards of broken glass in the ice cream." -David Sheppard, Art & Music: the Saatchi Magazine
"… acoustically led, her songs are of love, politics and quite possibly, the kitchen sink, and her voice is pure as crystal." -Paul Scott-Bates, Louder Than War
"'The Sea' by Helen McCookerybook is gentle but scathing, quiet but raging, fierce but melodic." -Cazz Blaise
Brought up in a village in the north east of England, Helen McCookerybook's horizons were expanded by listening to the John Peel show. Always interested in drawing, she would listen to the show, doodle, and daydream about escaping to a place where all that music came from. After attending a Foundation Course in Art at Sunderland Polytechnic, she moved to Brighton Art College to what was then the only Fine Art Printmaking course in Britain. This coincided with the emergence of punk, and encouraged by fellow squatters she joined the emerging punk scene, her first band being 'the worst band in Brighton' according to a local promoter. This band, Joby and the Hooligans, was mentored by the late Vi Subversa of Poison Girls. None of the guys were keen on playing bass, so McCookerybook picked it up and taught herself how to play, which was a life-changing move. After the demise of the band, Helen formed The Chefs with guitarists Carl Evans and James McCallum, and drummer Rod Bloor, and the group brought out first two tracks on the Vaultage 79 compilation and then an EP and single on the local Attrix label. The single, 24 Hours, came to the attention of BBC Radio One's John Peel. The Chefs recorded several sessions for Radio One before disbanding in 1982. Later that year after working with Lester Square (The Monochrome Set) and Mike Slocombe (Dance on a Telephone), on a cowboy/western set of songs, Helen and just the horn players from the new band were offered a support gig in west London with The Monochrome Set, and decided to go it alone as Helen and the Horns, with Helen McCookerybook shifting from bass and vocals to guitar and vocals, an unusual 'no-bass and no-drums' format. They played everywhere, from student balls at the Café Royal in London, to packed out punk gigs in the shires. Once more, they were frequent Radio One 'sessioneers' (recordings available here) signing to RCA in 1995 with whom they released two singles. They then released an album on their own label before disbanding amicably. Helen And The Horns still play the occasional gig
Helen McCookerybook then started writing and recording film and video soundtracks for the emerging Channel 4 amongst others; this included work on a series of stings for the documentary about Millwall Football Club, No-One Likes Us, We Don't Care and working with video artist Akiko Hada, both with Lester Square; and for Terry Jones' campaigning video company, Smith Bundy Video.
During a break from performing , Helen McCookerybook began lecturing at the University of Westminster on it's pioneering Commercial Music degree course; but the desire to share and perform the songs that she continued to write was compelling, so she returned to the stage as a solo artist with a new set of songs and received the warmest welcome from followers of her earlier work, and also found a new audience which is not only interested in her music, but also the artwork she has produced to accompany it. In 2018 she started touring mainland UK extensively from the south coast of England to the north of Scotland: she was a featured artist on BBC Scotland Highlands & Islands radio and was interviewed by key indie radio and media, also featuring in Art & Music: The Saatchi Gallery Magazine. She continues to tour regularly and perform live on radio. Since 2006 she has released eight solo albums.
Green, the CD she released in 2019, received airplay from BBC Radio 6's Gideon Coe, Marc Riley, and BBC Radio London's Gary Crowley who chose the track 'A Good Life with a Bad Apple' as his track of the week. This was followed by the release in early 2020 of the miniature album Pea Soup, a 7″ vinyl album with 10 tracks, each of which is under 2 minutes long. Tracks from Pea Soup also received airplay from Gideon Coe, and the album achieved a four-star review in Mojo magazine from Lucy O'Brien.
The albums, plus her catalogue of solo CDs, are available in the shop.
Helen has collaborated musically with The Monochrome Set's Lester Square, Vic Godard, Charlie Tipper, Gina Birch, Robert Rotifer and many other independent artists.
Her most recent collaboration with Robert Rotifer has resulted in a 6 track 10″ vinyl EP called Equal Parts, due to be released on the 4th December 2020. 'No Man's Land' from the EP was premiered on Gideon Coe's BBC Radio 6 show on the 19th October 2020.
As Helen Reddington, she published the monograph The Lost Women of Rock Music: female musicians of the punk era and co-directed a documentary of the book with Gina Birch of the Raincoats, Stories from the She-punks: music with a different agenda, which was completed in 2018. The film toured the UK with Doc'n'Roll in 2019.