Helicon (SCO) & The Janitors (SWE) Tickets
Nice n' Sleazy, Glasgow.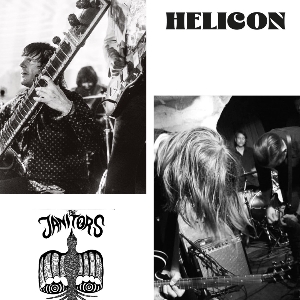 More information about Helicon (SCO) & The Janitors (SWE) tickets
Following their 'covid restrictions' cancelled Dec '21 shows, Glasgow's Helicon and Stockholm's The Janitors are back together for a short tour of UK. Kicking off at Glasgow's Nice n Sleazy, with support TBC. Early bird tickets £10 or £12.50 OTD.
HELICON
Formed in East Kilbride, Glasgow by brothers John-Paul and Gary Hughes, Helicon have become a mythical force in the UK underground. Over the last 10 years they've released 3 x singles, 9 x EPs, 2 x studio albums and 1 x Fuzz Club live session album.
Channelling the cosmic noise of their Scottish homeland (see The Jesus & Mary Chain, Mogwai etc.) and sitar-led, opium-tainted sounds of India with the neo-psychedelic swoons of 90s San Francisco, the band signed to Fuzz Club records in 2017.
Having toured UK and Europe extensively, Helicon have developed an international following with regular airplay on radio stations in UK, Ireland, Germany, USA, Australia, New Zealand and more
Their self-titled debut album was recorded and produced by Tony Doogan at Mogwai's Castle of Doom studio in Glasgow. More recently the band collaborated with Will Carruthers (ex-Spacemen 3 , Spiritualized, Dead Skeletons) for the hilarious, profoundly mind-melting single 'Im More English Than You, You Cunt!'.
Helicon will be playing old favourites and new material from their 3rd album out early 2023 on Fuzz Club. Alongside JP, Groovy Graham Gordon, Mark McLure and Seb Jonsen, the new lineup includes Mike Hastings on guitar (Trembling Bells, Peter Daltrey's Kaleidoscope UK, Mike Heron - Incredible String Band, Mike & Solveig) and Billy Docherty on bass (Filth Spector, St John's Ambience, Dead Temple).
THE JANITORS
Your favorite Swedish purveyors of heavy drones and sinister garage psych freak outs, Stockholm outfit The Janitors have been a formidable presence on the European underground since they formed back in 2004. Channeling the freewheeling spirit of Hawkwind with equal smatterings of Sabbath and Spacemen 3, the band are masters of taking hold of a gnarly fuzzed out groove and beating it within an inch of its life. Probably not for the faint of heart, their druggy wig-outs are totally relentless and unforgiving.
For the uninitiated, perhaps we should turn to the late Hunter S. Thompson who famously wrote: "But the ticket, take the ride.. and if it occasionally gets a little heavier than what you had in mind, well... maybe chalk it up to forced consciousness expansion: Tune in, freak out, get beaten." Those words serve as a perfectly apt instruction manual - or warning, perhaps - for entering the Janitors nightmarish world.
In November 2020, The Drone machine collective from Stockholm presented their latest offering to the altar of fuzz and drone, the critically acclaimed Noisolation Sessions Vol.1.
In January 2022 they released a Noisolation Sessions Vol.2 and a new live studio album will be on the way soon too.