Hell Fire Jack - single launch + supports
Lending Room, Leeds.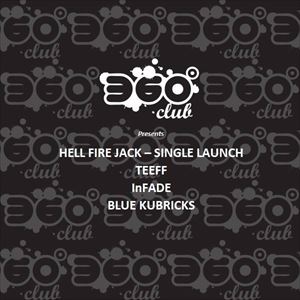 Hell Fire Jack are an explosive blues rock duo, who are celebrating the release of their latest single!
They are joined by 3 class suport bands, all of who should not be missed!
This event is for over 18s only - No refunds will be issued for under 18s.
More information about Hell Fire Jack - single launch + supports tickets
"My record of the week" Jericho Keys, BBC Music Introducing
"Solid album, blasting lyrics and non-stop power!" - Music To Open Another Door
An explosive brutal blues duo from Yorkshire.
Comprising of cousins Alex Trewhitt and Max Trewhitt, the duo has so far taken their high-octane, no-holds-barred take on the blues to audiences across the UK. Live sets are fast-paced and uncompromising with fuzzed-up riffs, heavy beats and a fierce vocal delivery.
"Absolutely incredible" – Christian Carlisle (BBC Introducing)
"Blew me away, top band" - Reyt Good Magazine
"A guitar and drums two-piece that is infectious to watch and addictive to listen to." - On : Yorkshire Magazine
"Infectious to watch and addictive to listen to." - On : Yorkshire Magazine
T double E double F. Fuzzy riffs, punchy drums and bluesy vocals from the depths of Yorkshire. Influenced by the likes of Ty Segall, Thee Oh Sees and Black Sabbath, Teeff are quickly gaining a reputation as a live show with plenty of bite. Expect gritty guitars, plenty of hair and pretty grins. The band released their latest single 'Won't You' in March which is available across all major music streaming sites. 'The Milkman', the bands upcoming single, is set to be released on the 13th July.
"Like a love child of the Red Hot Chilli Peppers and Rage Against The Machine. If you like loud punchy rock and sexy bass riffs this is the band for you" - Denim + Leather Mag'
"They play really brilliantly well. This is band who really get into it, it's not a 'stage act' but it's visually exciting. They hover around that sort of heavy alternative rock, grunge-y riffing, almost metal - Stuff like this, that relies on three people locking into something, isn't going to work if they don't know what they're doing musically, and inFade can play, they play really brilliantly well. They are really worth catching." -Local sound Focus
Blue Kubricks ay? Don't get me started on Blue Kubricks, ay?
They say that music is the language of the soul, and nothing could be truer for this Rock & Roll Band ;) Composed of 2 inspirational brothers and the other 2 guys they have funked up alt rock and its camp indie brother into a lather of Blue Kubricks blues. Behind the holy mountain is a river and that river is making a noise. That noise is rock n roll. That's rock n roll man! As much as roses stink, Blue Kubricks are a band. (Roses smell is what I'm getting. They don't stink) we are more than that. We are Blue Kubricks.