Herb'S Excellent Adventure + Stakbabber
Pop & Cultuurpodium P3, Purmerend.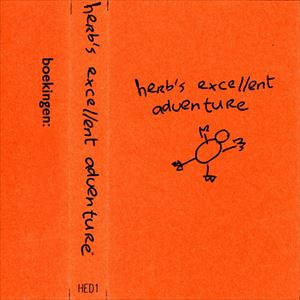 Heden en verleden muzikaal verbonden in tien songs, nouveau retro anno 2019. Meer nog dan het debuut is dit nieuwe album dansbaar, met de bijna-industrial beat van Transvaluation, de laid-back swing van Humdrum en de mid-tempo drive van She Hung Half-Mast. Stakbabber zet een dijk van een geluid neer, met diepe grooves, doordachte arrangementen en een productie vol finesse.
More information about Herb'S Excellent Adventure + Stakbabber tickets
P3 Purmerend Pop,- en Cultuurpodium presents Herb's excellent Adventure

Herb's Excellent Adventure maakt niet ieder jaar een nieuw album.
Herb's Excellent Adventure speelt niet iedere avond voor een uitverkocht huis.
Herb's Excellent Adventure speelt sowieso niet iedere avond.
En zeg nou eerlijk: who cares?

De band zelf maalt er in ieder geval niet om. Voorbij zijn de dagen van het dromen najagen, van ambities die tot aan de toppermost of the poppermost reikten. Vijfentwintig jaar na de oprichting, draait het bij Herb's Excellent Adventure nog maar om één ding: die ongrijpbare chemie die er telkens weer voor zorgt dat er spannende nieuwe liedjes geboren worden. Nummers waarmee de bandleden elkaar en zichzelf blijven verbazen, en die ze eens in de zoveel tijd willen delen met anderen. In 2017 bracht Herb's Excellent Adventure mini-album Hot Love Disk uit, een eclectisch plaatje waarop je alle uithoeken van het Herb's-spectrum kunt verkennen.