Hollie McNish with Michael Pedersen Tickets
Gloucester Guildhall, Gloucester.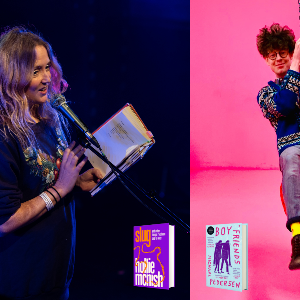 More information about Hollie McNish with Michael Pedersen tickets
Hollie McNish with Michael Pedersen


Hollie McNish is a Sunday Times bestelling author and poet whose live readings are not to be missed. Expect strong language and adult content ribbon wrapped in carefully and caringly sculpted poetry from her latest collection Slug and more.


Here, she will be joined by fellow poet Michael Pedersen, reading from Boy Friends, his poetic memoir about friendship which Stephen Fry has declared 'enchanting...astonishingly compelling...rare and to be treasured'.

Hollie McNish

"One of the best poets we have" – Matt Haig

"Utterly fearless: an essential voice for our times - Musa Okwonga

"like Pam Ayres on acid" – Lemn Sissay

Michael Pedersen

'Uncommonly romantic, irreverent and, at times, laugh out loud funny.'?—Shirley Manson
'Enchanting...astonishingly compelling...sparklingly written...rare and to be treasured'.'?— Stephen Fry?

'A master of words. He plays them like music.'?—Kae Tempest?

'Lucid, lyrical, loaded, BOY FRIENDS is a love letter to friendship.'?—Jackie Kay

Hollie McNish Bio

Hollie McNish is a Sunday Times bestselling author based between Cambridge and Glasgow. She won the Ted Hughes Award for New Work in Poetry for her poetic parenting memoir – Nobody Told Me -
of which The Scotsman stated 'The World Needs this Book'. She has published four further collections of poetry – Papers, Cherry Pie, Plum and her most recent poetic memoir Slug...and other things I've been told to hate, which covers topics from grief to otters, grandmothers to Finnish saunas. She has just completed a re-imagining of Sophocles' Greek Tragedy Antigone. She really loves plums and writing poems

Website: www.holliemcnish.com

Instagram / Twitter: @holliepoetry

Facebook: /holliepoetry

Michael Pedersen

is a prize-winning Scottish?poet, scribbler, stitcher. He's unfurled two acclaimed collections?of poetry with a poetic prose debut,?Boy Friends, out with Faber & Faber in July 2022.?He?won a Robert Louis Stevenson Fellowship, the?John Mather's Trust Rising Star of Literature Award, and?was a finalist for the 2018?'Writer of the Year'?at The Herald Scottish Culture Awards. With work anthologised by the likes of?Pan MacMillan and Canongate Books, his writing has attracted plaudits?from voices as luscious as:?Irvine Welsh, Jackie Kay, Shirley Manson & Charlotte Church.?

Instagram:: @michaelpedersenoyster

Twitter: @scribepedersen