Holmfirth Rock Splash with Massive Wagons & guests
Picturedrome, Holmfirth.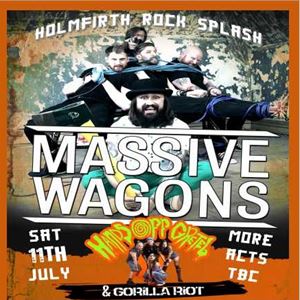 More information about Holmfirth Rock Splash with Massive Wagons & guests tickets
Holmfirth Rock Splash 2020

Massive Wagons

If ever there was a band that personified the phrase "good things come to those
who wait," it's Massive Wagons. Whilst the Lancaster hard rock quintet have been
active for a decade now, 2018 was the year the band truly made their mark on the
music industry, touring with the likes of Status Quo, Dead Daisies and The Wildhearts,
and landing at No. 16 in the UK Top 20 with their fourth LP, 'Full Nelson'.

Hands Off Gretel
Hands Off Gretel are a sassy alt rock/grunge pop band from South Yorkshire, who have built themselves a solid live reputation, for a high energy shows that are musically dynamic and visually compelling. Hands Off Gretel have created the perfect soundtrack of sugar-coated grunge-punk to vent and rail against the issues of body image, mental health, celebrity, childhood and loneliness all of which were addressed from a fiercely female, unapologetic, feminist perspective.

Gorilla Riot

Gorilla Riot are a 5-piece dirty rock n' roll blues machine from Manchester, England.
They play raucous blues based rock, combining elements of grunge, stoner and country to create a full-on high energy rock show.

More Acts TBC