Holy Moly & The Crackers
Scala, London.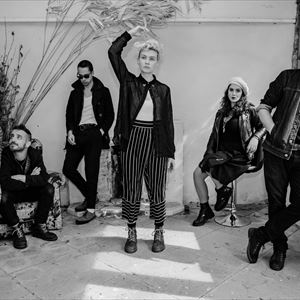 This event is for over 16s only - No refunds will be issued for under 16s.
More information about Holy Moly & The Crackers tickets
Holy Moly & The Crackers make riotous party music for the masses. Their upcoming third album, 'Take A Bite' (released April 5th 2019 on the band's own Pink Lane Records), is concise, passionate take on folk, blues and indie rock. The sound of a band who have been searching and experimenting for several years; arriving at a place where they can say "this who we are and this is where we want to go".

Formed in Newcastle in 2011, the group began as little more than a laugh, an excuse to busk through some foot-stomping folk pop. They developed from a four piece to a six piece, with Ruth Patterson on vocals/fiddle, Conrad Bird on vocals/guitar/trumpet, Rosie Bristow on accordion, Nick Tyler on electric guitar, Jamie Shields on bass and Tommy Evans on drums/backing vocals. "When we started out we were a real ragtag folk band," Conrad says. "We want to tell a different story now."

The first taste from 'Take A Bite' that listeners will be treated to arrives in the form of euphoric lead single, 'All I Got Is You'. Combining deft pop song craft with a stomping, four to the floor backing, it demonstrates the band's commerciality and ambition, as well as their ability to tackle personal lyrical fare in a two-minute pop song.

"This album is asking the audience to take a chance on us," explains Ruth. "Obviously we've got a bit of a daft name and we look a bit mad, but I think once people actually come to a gig, they're always swept up in the music and the energy. We get kids, old people, Goths, hippies, whatever. Everyone's invited, everyone's part of it. And people seem to lose themselves. No one's like, 'Oh, how do I look?' while dancing. They don't care. It brings everyone together."

"All roads lead to the stage," Conrad continues. "The arguing, the loving, the making, the listening - it boils down into one manic, riotous party. That's where we connect with the audience and with each other and that's what we're all about." It's an all-systems-go mentality. "We've arrived at a place here, with this album, where we can start the journey that we want to be on. This is who we are now; this is what we're doing."