Gardens Illustrated: Chelsea Plant Preview Day
The Plant Centre, Hortus Loci, Hound Green.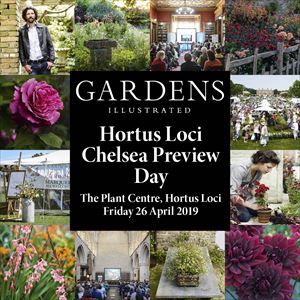 Hortus Loci nursery has become known for its expertise in sourcing a wide range of plants from around the world and working with designers to supply plants for their show gardens. On the reader day you'll get a sneak peek at what's likely to be this year's must-have plant, as well as an insight into the likely trends at Chelsea. Nurserymen Mark Straver and Robin Wallis will talk about how the plants are selected and grown with a tour of the behind-the-scenes beds and polytunnels, and then following lunch, designers Mark Gregory and Tamara Bridge will talk with Ann-Marie Powell about their highly anticipated Chelsea gardens for 2019, their choice of plants and how their designs are progressing.

Your day also includes time to browse the nursery and make your own plant selections with a special £5 discount voucher.

Programme
10am Arrival, coffee and cake.
10.30am Guided tour of the nursery and the Chelsea plant stock beds.
12 noon Lunch provided by on-site Hobo.co artisan café and kitchen.
1.30pm Mark Gregory and Tamara Bridge in conversation with Ann-Marie Powell.

For the rest of the afternoon you are free to explore the nursery and buy plants with your special £5 discount voucher.

You can also sign up on the day for a loyalty card entitling you to a 10 per cent discount for further purchases at The Plant Centre Hortus Loci.

Tickets and directions will be sent out prior to the event. Booking is essential. Please advise us of any dietary or accessibility requirements.