How To Laugh in English - Scott Capurro Stand Up Tickets
Tunnel Vienna Live, Vienna.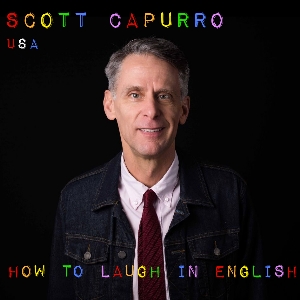 In order to do that in a responsible way we're asking that everyone that comes brings with them per The Tunnel: A paper that says that they are either vaccinated, tested negative or recovered. For an antigen test, within 48 hours or 72 hours for a pcr-test. (As of June 22nd. This may change as regulations change)
More information about How To Laugh in English - Scott Capurro Stand Up tickets
San Franciscan actor/comedian Scott Capurro has become one of the most popular faces on the UK comedy circuit. At his first appearance in the UK, the 1994 Edinburgh Fringe Festival, Scott hit the ground running by winning both the PERRIER BEST NEWCOMER for his show 'RiskGay', along with the SPIRIT OF THE FRINGE award. '
Scott Capurro's Love and Affection Tour', his 1995 Edinburgh show, was then nominated for the main PERRIER AWARD.
Since then, Scott has extensively toured the US, Australia, South Africa,
Europe and Canada, having performed several times at the JUST FOR
LAUGH'S FESTIVAL in Montreal, and comedy festivals in Adelaide, Melbourne, Sydney, Cape Town, Prague, Manchester, Kilkenny, Los Angeles, New York City and Stoke-on-Trent. He's successfully played his hour to sold-out audiences at 14 Edinburgh Fringe Festivals, including his smash hit show 'Scott Capurro Goes Deeper' in 2008, which also toured the UK extensively
His comedy material is deliberately provocative, referring often to gay life and culture, politics, race and racism, and popular culture.
"I don't give a shit about those who don't like my work," Scott snaps. "I'm never going to win them over anyway, so why bother? My work is for a discerning audience who don't have knee-jerk responses."
So… if you're not up for a little scandal, you may want to stay home and watch Netflix.