Hyper Inverter 2023 Tickets
Fell Foot Wood, Cumbria.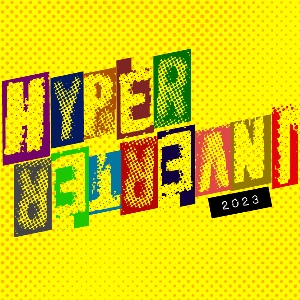 Fell Foot Wood is a marvellous patch of woodland on a hillside overlooking Windermere in Cumbria, best accessed with a vehicle but also possible via public transport.
There is an on site bar but bringing your own supplies is also recommended, and you must bring your own water.
This event is for 18 and over - No refunds will be issued for under 18s.
More information about Hyper Inverter 2023 tickets
Inverted Grim-Mill Recordings presents:
HYPER INVERTER 2023
Returning to the beautiful Fell Foot Wood for more ridiculous shenanigans.
June 30th and July 1st 2023, with a handful of acts on stage on the Friday evening and a bunch of stuff on and off stage on the Saturday.
Featuring this lot live on stage (running order TBC):
No Teeth
Post-pronk nuisances present tales of meat night and favourite pies, amongst many other things. A whirlwind of guitars, synth, brass and percussion that leaves you wondering where each part of the carefully constructed chaos is actually coming from. Hits the magic sweet spot between hilarious fun times and something terribly wrong.
https://no-teeth.bandcamp.com/
Black Shape
London based North Eastern duo who have truly mastered the art of daftness while churning out some of the heaviest and most horrible riffs. Fast or slow, it's always aggro. In a nice way.
https://blackshape666.bandcamp.com/
Paddy Steer
Cumbria's very own one man party machine! Lovingly described by a friend as sounding like Squarepusher meets Mr. Blobby, Paddy's squelchy synth and drums soundtrack his immaculately dressed trip into space. Guaranteed to get you on a wobble.
https://paddysteer.bandcamp.com/
Bad Amputee
Slowcore trio delivering miserable tales in an endlessly enthralling manner which messes with the time space continuum, always leaving you wanting more.
https://badamputee.bandcamp.com/
Thraa
Manchester based duo creating thick atmospheric landscapes to get lost in via feedback manipulation, effects pedals and wonderous vocals gliding across the skies of these sonic plains.
https://thraa.bandcamp.com/
Me Lost Me
Synth and vocals combine to weave beautiful timeless pieces of electronic folklore.
https://melostme.bandcamp.com/
Brad Field
Drums and pipe organs, together at last. Must be seen to be believed...
https://www.youtube.com/watch?v=kBD5yXULQwY
Burnthouse Lane
Sonic murk to simultaneously comfort and disturb.
https://stillheatrecordings.bandcamp.com/album/burnthouse-lane
Barry of the Black Wood
Resident baptist, poet and all round legend Barry will treat us to an introductory performance and no doubt some interesting rituals. The real star of the show!
BONUS OFF STAGE ANTICS!!!
The Junkoactive Wasteman & The Tin Can Twins
Recycled sounds and outfits in a full on drums n beans dance routine! Expect clattering turbo renditions of tunes you may recognise, mangled into wonky donkers.
https://www.youtube.com/watch?v=yxtzA0qCKw0
Dawn Terry
Accordion and vocal drones drifting through the trees.
https://dawnterry.bandcamp.com/
Wrest
Total Blyth acoustic smash hits! Absolutely no idea how this will go.
brb>voicecoil
Speakers buried in the undergrowth murmur strange vocal sounds.
https://muzamuza.bandcamp.com/