Iberian Festival Awards
IBERIAN FESTIVAL AWARDS, ONLINE.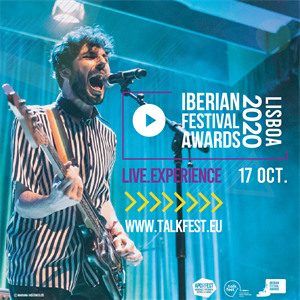 The 5th edition of the Iberian Festival Awards, which belongs to the Festival Awards, Ltd (UK) network, will award prizes to the best players and practices in the area of music festivals at Portugal and Spain, in the most varied aspects and specialties - promoters will be awarded, festivals, but also brands, artists, media partners, photographers, service providers and there will be an excellence award for a personality that has stood out with his work throughout 2019. There will be 25 categories to tender, decided by the public and jury panel (Portugal, Spain and International) in a gala interspersed with live performances (by bands and artists from Portugal and Spain). Due the current status in the world, will have, in 2020, an optimized version for those who see it in the virtual/online format.
This event is for 14 and over - No refunds will be issued for under 14s.