Icebreaker Festival 2019
Various Venues, Southsea.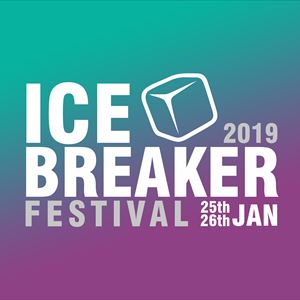 Icebreaker Festival 2019 - 25th & 26th January 2019
Albet Road & Elm Grove, Southsea
ALL TICKETS MUST BE EXCHANGED FOR WRISTBAND AT ALLOCATED TICKET OFFICE - PLEASE CHECK WWW.ICEBREAKERFESTIVAL.COM FOR MORE DETAILS.
LIMITED CAPACITY IN EACH VENUE, PLEASE PLAN YOUR DAY CAREFULLY.
14+ AGES ONLY. ID REQUIRED FOR ALL OVER 18 TICKETS.
PLEASE SEE AGE RESTRICTIONS BEFORE PURCHASING TICKET.
TICKETS CANNOT BE UPGRADED TO WEEKEND OR OTHER DAY TICKETS AFTER PURCHASE.
R.O.A.R
This event is for over 14s only - No refunds will be issued for under 14s.
More information about Icebreaker Festival 2019 tickets
Icebreaker Festival 2019 - 25th & 26th January 2019
Albet Road & Elm Grove, Southsea
Age Restrictions
Friday
The Wedgewood Rooms & Edge of the Wedge - 14+ Until 11:30pm
The Loft - Over 18's Only
The Fat Fox - Over 18's Only
One Eyed Dog - Over 18's Only
The Deco - Over 18's Only
Saturday
The Wedgewood Rooms & Edge of the Wedge - 14+ Until 11:30pm
Acapulco - 14+ Until 7:30pm
Wine Vaults - 14+ Until 7:30pm
The Loft - Over 18's Only
Lord John Russell - 14+ Until 7:30pm
The Fat Fox - 14+ Until 7:30pm
The Atrium - 14+ Until 7:30pm
Emporium Bar - 14+ Until 7:30pm
One Eyed Dog - Over 18's Only
The Deco - 14+ Until 7:30pm
The Honest Poli - Over 18's Only
LINE UP
Seething Akira
Horseflies
Igloo
These Septic Stars
GLOO
CURBWIRE
Brutum Fulmen
Captain Trips
Hanowar
(Not) Queens of the Stone Age
HAEMA
VICTUS
Sven
Lily Garland
Hometown Show
Yeehaa Granma
Katy Hurt
Mischa & His Merry Men
Mystic Peach
Dad Hair
Make them All Smile
Burning House
ManReads
Syrette (Live)
Total State Machine (Live)
The Burning Trestle (Live)
Jackarack (DJ)
Wild Front
The Collision
FLOWVERS
Sarpa Salpa
Minque
Submariner
Drusila
Percival Elliott
FINDING KATE
Marmalade Moonshine
Brother Deep
Fugitive Orchestra
Bird Shoes
Lobster Pot
Principal Partners
Persona
The Vitrines
Radlouse
Tirana
Arid Wave
TIDES
12 Hour Avenue
Thieves by The Code
Skull Above the Cannon
EYRE LLEW
Foxer
The Wild Claims
Shoot The Duke
The Sweetchunks Band
Frankie Knight
Alexander McKay Band
Me and The Moon
Southerlies
Bella Estelle
The Day of the Rabblement
El Morgan and The Divers
The Diamond Age
Fake Empire
Romances
Winchester
Broken Links
Deuxes
Sam Wilde
Capital Fuzz
Sal Paradise
DJUNO
TBC
Pure Assassins
JEPH
Sweetmates
The Hideaways
Light Brigade
Our Propaganda
Madeline
Dutch Criminal Record
Costellos
Neverman
Cora Pearl
The Ruffs
CURRLS
HOOLi
Sweet Facility
Skinny Milk
Barbudo
You're Smiling Now But We'll All Turn Into Demons
Number 9
Violet Mud
Mystik Hypniks Picnic
Scrubs
Lucid Rising
Heebie Jeebies
Toreador
Ellis Hudson
Matt English
Ryan McMurtry
Georgia Fearn
Calum Lintott
Tom Pointer
Freja Frances
Heir of the Dog
The Machete
Slick Minded Individuals
Crybaby Special
The FreeDub Press
Fuzzwalker
Purple Smoke
Hangdai
Something Leather
Joe Burger
CLT DRP
Pleasure Complex
Tokyo Taboo
Bel Esprit
Birthday Card
COUNTERPOINT
CASSINII
The Dead Reds
Stray Bullets
Cybernetic witch cult
Harbinger
Ravenbreed
King Abyss
Bleed Again
Bearfist
Bad Llama
Aren Drift
Escape December
Hallan
Sad Palace
Luna Blue
Brother Zulu
Alexis Kings
Octopus
Alice Milburn Band
Ciircus Street
ALL TICKETS MUST BE EXCHANGED FOR WRISTBAND AT ALLOCATED TICKET OFFICE - PLEASE CHECK WWW.ICEBREAKERFESTIVAL.COM FOR MORE DETAILS
14+ AGES ONLY