Icebreaker Festival Winter 2020
Various Venues, Southsea.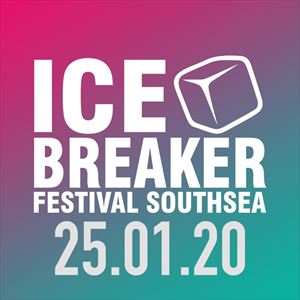 Icebreaker Festival Winter 2020
Saturday 25th January - 7 Venues - 80+ Acts
IMPORTANT - Over 18 tickets must provide ID in exchange for wristband on the day at any of the ticket offices. Under 18 tickets (14-17 year old) will not permit entry into One Eyed Dog all day and all venues expect The Wedgewood Rooms & Edge of the Wedge after 7pm. Ticket Office locations to be announced. R.O.A.R / No Refunds or exchange. Please visit www.icebreakerfestival.com for more information.
This event is for 14 and over - No refunds will be issued for under 14s.
More information about Icebreaker Festival Winter 2020 tickets
2020 Line up
CRYSTAL TIDES - FAKE EMPIRE BLEED AGAIN - THE PRETTY VISITORS - CURRLS ANY JOY. - SAD PALACE - THE ZODIACS
DRUSILA - GLOO - TOM BRYAN - ALICE MILBURN - HOOLI - HALLAN ELOISE - DUTCH CRIMINAL RECORD - BELLA ESTELLE - COSTELLOS YEHHAA GRANMA - SLICK MINDED INDIVIDUALS - WAIF & STRAY DJUNO - BROTHER DEEP - BANZAI PIPELINE - HAEMA - GLOSSII HIGHLIGHTS OF OUR MODERN WORLD - THE OTHER DRAMAS DUTCH MUSTARD - THE HOWLERS - SVEN - DUSKWOOD - DALI THE SWEETCHUNKS BAND - SARPA SALPA - THE BRIGHT EXPRESSION DERELICT DREAM - AREN DRIFT - ALEXANDER MCKAY - AMORLA COLOUR OF THE JUNGLE - JOE BURGER - THE FREEDUB PRESS PERCIVAL ELLIOTT - FUGITIVE ORCHESTRA - ASKIES - LUNA ROSA FRANKIE KNIGHT - THE ISLE OF CC - LIBRALIBRA - SUMMONERS TOREADOR - DISSONANTS - IGLOO - BROOKE LAW - VCR - FUZZWALKER DOPAMINE - CALUM LINTOTT - JUNO - NUMSKULL - THE STONE BIRDS SOUR KIX - CRSTIAN TR - PAPER HOUSE - FINDING KATE - NEVERMAN YASMIN NATASHA & THE SAXY FLAMINGOS - PURE ASSASSINS - YUR MUM THE OUTLAW ORCHESTRA - JAMES LAURENCE - BURNING HOUSE CHANG - BLOOD RED SKY - THE WILD CLAIMS
Please follow us on social media
Facebook - icebreakerfestival
Twitter - @IceBreakerUK
Instagram - ice_breaker_uk
Hashtag - #icebreakerwinter2020