Icebreaker Festival Winter 2022 Tickets
Various Venues, Southsea.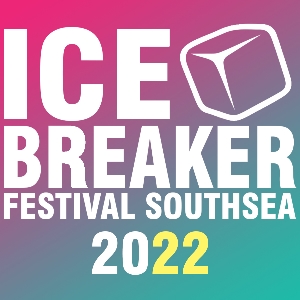 Line Up
Announced so far...
HALLAN / ARXX / NEVERMAN /
SLICK MINDED INDIVIDUALS / BRAVE RIVAL / ME AND THE MOON / MORASS OF MOLASSES
FAKE EMPIRE / TOM BRYAN / WEB / VAN GOSH / GLOO / BROKEN LINKS / BLOOD RED SKY /
FAST TRAINS / HOMETOWN SHOW / YUR MUM /
BELLA ESTELLE /
TEMPLES OF YOUTH / HORSEFLIES /
COAX / HOOLI / SINS / CHUD / INTERSTATE DRIVE /
JOE BURGER & SUB TEMPLA /
BIG RED ASS / J.J. SUMMER /
SPIN WAR / BEIGE / NUMBER 9 / THE FREEDUB PRESS /
DEUXES / AVERTED / AFTER LONDON / ANNA FOYE /
ARMSTRONG / CROSS WIRES /
FUGITIVE ORCHESTRA /
FRANKIE KNIGHT /
BECOMING BRANCHES / JIMMY HERRITY /
THE GREAT LESLIE / DRONNINGEN /
THE DAY OF THE RABBLEMENT / CALUM LINTOTT

COVID-19 Information - Please read carefully
As of September 2021, there is no restrictions put in place at the time of Icebreaker Festival due to take place on Saturday 29th January 2022.
Until we know what (if any) restrictions are in place relating to Coronavirus by the Government, Icebreaker Festival will plan for any of the scenarios below. Please note, we operate a no refund policy if any of the restrictions below are to be put in place.
Option A
- No restrictions put in place by the Government meaning no requirements to gain access to the festival.
Option B

- Vaccine passports are required to gain entry into the festival.
- Masks are not compulsory but are advised.
- Hand sanitisers are posted around the festival.

Option C
- All attendees are to provide either proof of double vaccination, a negative test within 24 hours of the festival date or proof of a natural immunity to the virus.
- Masks are compulsory whilst moving around inside the venues.
- NHS track and Trace could be compulsory on entry to every venue.
- Hand sanitisers are posted around the festival.
Option D
Further strategic plan to be announced if required.
This event is for 14 and over - No refunds will be issued for under 14s.
More information about Icebreaker Festival Winter 2022 tickets
Icebreaker Festival Winter 2022
Multiple Venues / 1 Wristband / 80+ Acts
Saturday 29th January 2022 / Tickets £15adv / 14+ / From 12pm

Albert Road & Elm Grove, Southsea.

Tickets only avaialble via Seetickets.com, please bring E-ticket (print out or on phone) to the box office to exchange for a wristband. Location of Box Office TBC.

- ID Required for exhanging Over 18 Tickets
- Over 18 Wristband is NOT a proof of age for entering venues and further idenfication maybe required by the venues.
- Line up subject to change
- Please read COVID-19 Information before purchasing tickets.
- Most venues operate 18+ after 7pm, some venues are only 18+ all day.
- Disabled access is available to all venues except one (TBA).


R.O.A.R / No Refunds or Exchanges unless event is postponed or cancelled by the promoter.

www.icebreakerfestival.com