IDMC Gospel Soul Choir Tickets
Alexander's Live, Chester.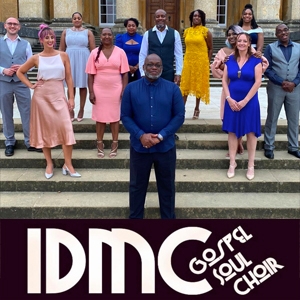 This event is for 18 and over - No refunds will be issued for under 18s.
More information about IDMC Gospel Soul Choir tickets
IDMC Gospel Soul Choir
Sunday 4th July
7pm Doors

John Fisher and IDMC Gospel Soul Choir

Award winning and Croydon based resident John fisher, has been in the music business for over 40 years and has shared his gift, playing for some of the biggest names in gospel and soul music.
"Being the drummer behind people like The LONDON Community Gospel Choir, Chaka Khan, Mica Paris, Alexandra O'neal, Denise Williams and so much more has given me an amazing life" says John.
Brought up in the NTCG church and the son of a musician and preacher, John has kept his faith strong and believes that's what made him who he is today.
The choir which was formed in 1994 is made up of individuals like you and me, christian people who work normal 9-5 jobs, but who have come together to share the special gift of singing gospel and inspirational songs.
John, an award winning choir director, music teacher, and youth mentor by day, has been mentored by some of the UK's finest choir directors. Such as BAZIL Meade (London Community Gospel Choir) who's worked with Stormzy, Luther Vandross, Elton John, as well as Karen Gibson (Kingdom Choir), famed for singing at last years Royal Wedding. Combined his upbringing, training and mentoring to create the classic, IDMC Sound (Individuals Dedicated to the Ministry of Christ).

IDMC are around twenty-five members from various Christian backgrounds. John Fisher and the choir have managed to amass a total of nine albums and various single releases containing legendary gospel soul funk classics, including Soul Food, Don't Lose Your Song, Season for Love and Walk with Me (recorded live at north London's famous jazz venue – Jazz Café).
The latest album offering Hideaway Live(recorded live at South London's Hideaway Jazz Club) made its debut in 2017 with a deluxe re-release and album launch at the Jamaica High Commission in early 2018, celebrating 24 years of the choir. Now the latest single, My Change has Come, brings the choir into full fruition celebrating 25 years this year. They're 26th year this 2020 sees the choir preparing for the launch of the 10th Album, with releases such as I Believe and MY Joy.
The choir have celebrated well, having been finalists in the BBC Songs of Praise Gospel Choir of the Year and also winning both Premier Gospel Radio Gospel Choir of the Year and an Urban Music Award for Best Gospel Act 2018. They also have had numerous further appearances on the BBC Songs of Praise, and has been the only choir to have had a Livestream-Live Concert during Covid lockdown. John also received a BEM honour from HM The Queen of England, as well as a Certificate of Recognition from the Mayor of Croydon for his hard work and dedication within the community, through IDMC and his school project We Sing U Sing, which bring Gospel music into schools, to kids who may not necessarily have an outlet to help channel their talents.
As well as the traditional singing duties of a gospel choir, IDMC have performed to varying audiences both home grown and all around Europe, the choir have had many high-profile collaborations with artists and organisations such as:Matt Goss, Michael Bublé, Lukas Graham, Luciano Pavarotti, Jahmene Douglas, Avery Sunshine, X Factor, Jermain Jackman, Cilla Black, Heather Small, Jason Mraz, Sting, Gron Koncert 2018, Tinderbox Festival, London Olympics, McDonald's, KFC, Brooke Ligertwood, Sir Cliff Richard, Née Fraser (Hillsong church), BBC TV and most recently The Variety Children's Charity at Buckingham Palace.
"To still be able to take IDMC (individuals dedicated to the ministry of Christ) out, having us booked constantly whether virtually or not, is a dream come true" says John. " I never thought we would be still going till now, ministering to so much over so many years has been a total joy, and to know we are still getting called, tells me that we are loved".
John Fisher and IDMC Gospel Soul Choir repertoire includes songs from Aretha Franklin, Ben E King, and The O'jays with that signature IDMC twist. As well as, music from their albums that spans over the past 26 years.
To learn more about the Choir, visit their website on
www.idmcgospel.com