Incineration Festival 2019
Various Camden Venues, London.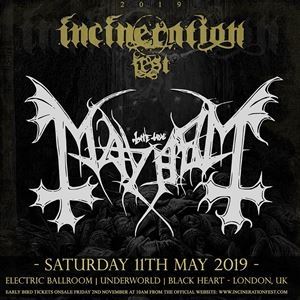 PLEASE NOTE: THE BLACK HEART is an 18+ venue, nobody under 18 will be permitted entry. MAYHEM, SEPTIC FLESH, SHINING, INCITE, SODOMIZED CADAVER, NECRONAUTICAL, THE BROOD, ATONEMENT, RED METHOD..., CARPATHIAN FOREST, ASPHYX, WINTERFYLLETH, VOICES, ABYSMAL TORMENT, UNHOLY LUST...PLUS MANY MORE!
14+ only. 14s to 15s must be accompanied by an adult. No refunds will be given for incorrectly booked tickets.
More information about Incineration Festival 2019 tickets
This festival takes place at the following venues:

THE ELECTRIC BALLROOM, Camden High Street, London
UNDERWORLD, Camden High Street, London
THE BLACK HEART, Camden High Street, London (please note, this is an 18+ venue)

After unleashing the first event in May 2014, Incineration Festival has now seen 5 capacity events hosting numerous worldwide artists including Abbath, Sodom, Dark Funeral, Alcest, God Seed, 1349, Taake, Marduk, Unleashed, Rotting Christ, Master's Hammer, Tsjuder, Anaal Nathrakh, Impaled Nazarene, Melechesh, Immolation and many more. Acting as a mecca for extreme music, Incineration Festival year on year offers a line up consisting of the darkest and heaviest bands.

INCINERATION FESTIVAL 2014: Taake - Anaal Nathrakh - Carach Angren - Nargaroth - Aeternus - Malignancy - Unfathomable Ruination - Amputated - Slegest - Noctem - Eastern Front - De Profundis - Premature Birth - Regurgitate Life - Primitive Graven Image

INCINERATION FESTIVAL 2015: Alcest - God Seed - Unleashed - Shining (Nor) - Melechesh - Aura Noir - Keep Of Kalessin - Necrophobic - Tribulation - Impaled Nazarene - Centurian - Oranssi Pazuzu - Endstille - Prostitute Disfigurement - Ingested - Otargos - Alfahanne - Essenz - Woland - Bast - Funeral Throne - Scordatura - Sidious - Wretched Soul - Foetal Juice - From The Bogs Of Aughiska - Verdelet - Jotnarr - Premature Birth - Codex Alimentarius

INCINERATION FESTIVAL 2016: Dark Funeral - Marduk - Immolation - Origin - Tsjuder - Mithras - Lvcifyre - Cerebral Effusion - Voices - Lucifer's Child - Hecate Enthroned - Unfathomable Ruination - Eastern Front - Voltumna - De Profundis - Foscor - Saille - Ageless Oblivion - Engorgement - Hades Lab - Omnipotent Hysteria - Warcrab - Decrepid - Inebrious Incarnate - Atonement - Scutum Crux - Anoxide

INCINERATION FESTIVAL 2017: Sodom - 1349 - Samael - Akercocke - Gaahl's Wyrd - Culf Of Fire - Temple Of Baal - A Forest Of Stars - Deranged - The King If Blind - Dyscarnate - Skinned - Meta-Stasis - Lelahell - Ninkharsag - Damim - Shrines - Ethereal - The Infernal Sea - Stahlsarg - Sathamel - Reign Of Erebus - Basement Torture Killings - Domitorem - Vehement - Nahemia - Anakim - Black Skies Burn

INCINERATION FESTIVAL 2018: Abbath - Taake - Master's Hammer - Rotting Christ - Saor - Hypothermia - Hour Of Penance - Cancer - Horna - Demonical - Caronte - Sarkom - Analepsy - Demonic Resurrection - Asagraum - Unfathomable Ruination - Wretched Soul - Martyrium - Misanthropic Existence - Endezzma - This Is Endless - Auri - The Crawling - Ereskigal - Lunatic Hooker - Aklash - Sodomized Cadaver - Stahlsarg