BYOC (Bring Your Own Computer)
NEC, Birmingham.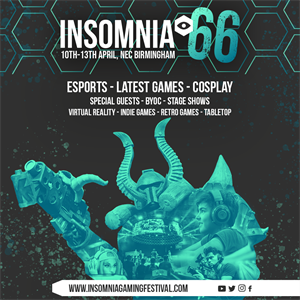 Already Ordered Tickets?
If you would like to add more tickets to your order, please enter your details to group your orders together and only pay one transaction fee.
Please note that this is only available until your order has been printed and posted. After this point you would need to place a separate order.
Some or all of the items for this event require you to enter a promotional code
Promotional/registration tickets are currently unavailable.
BYOC Loyalty Levels are now OPEN!
Please enter the email address linked to your Loyalty account, in the box below, to book your ticket.
For returning customers this will be the email used to place your order and create your seat picker account.
If you have any queries regarding your loyalty level please email Insomnia@seetickets.com
It's with incredible disappointment and reluctance that we have to update you that Insomnia66 this April 10th-13th at the NEC, is cancelled due to COVID-19. We appreciate this will come as a major disappointment but we want to ensure our priority is the welfare of our guests, exhibitors, staff, volunteers and suppliers; as well as producing a show of the high standard you have come to expect and enjoy.
A lot of work from our very dedicated Insomnia family has gone into making this event happen and this outcome is far from what we envisaged for Insomnia66. To make the best of this difficult situation, we will be dedicating time to working with our partners and exhibitors to make our summer show better than ever.
In the interim, your feedback on ideas to keep our community spirit alive, is very greatly appreciated.
Summer's Insomnia67 will return, 28th-31st August to the NEC, Birmingham.
More information about BYOC (Bring Your Own Computer) tickets
To Apply for a complimentary carer ticket



Please book the tickets required for all other members of your party, excluding the carer then:
- Send a scan or picture of the attendee's DLA/PIP letter or CredAbility Access Card
- The attendee's order number (found on the eticket)
- The carer's full name and email address.

To See Tickets at accessibility@seetickets.com

Please make sure that the event and reference number is in the subject line of the email to claim your free carer.

Carer tickets are not available with a Child (2-6 years) Admission ticket.

Any emails received without the required proof or the relevant booking details may not be responded to.

If your application has been successful See tickets will contact you as soon as possible.