Interior design masterclass - Quilt Covers
Secret Warehouse, Manchester.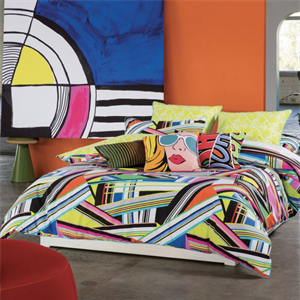 More information about Interior design masterclass - Quilt Covers tickets
Enjoy a session of Interior Styling Tips for Quilt Covers from our very own Anthea Valavanis our product content coordinator.
Anthea will cover all your styling questions on Quilt Covers including:
What is a good thread count for quilt covers?
Are doona covers and quilt covers the same thing?
What should people be considering when they're looking at that as an indication of a quality product?
Super king quilt covers, how these are used in styling.
What are generally the fibre blends in quilt covers and what is best for you.
How many quilt covers should you own?
How many quilt cover sets should you own?
How to put on a quilt cover.
What are the major brands of quilt covers.
What are comforter sets?
What is the difference between a quilt cover and a coverlet?
An overview of top selling quilt cover brands KAS, Linen House, Logan and Mason, Florence Broadhurst, Bambury, MM Linen and more!
For a full overview of quilt cover styling tips to be covered go to https://www.manchesterwarehouse.com.au/bed/quilt-doona-covers
Here is sneak peak of the topics Anthea will cover at the masterclass.
How many quilt covers or quilt cover sets should you have? And I suppose that's in relation to your own personal quilts but family, or is it also seasonal?
So personally I have two for my personal bed and also for my daughters bed and that's purely just based on function. So when it's time to wash the quilt cover, I don't want to have to be waiting around for this thing to dry or if there is an accident or anything like that. So I just want to switch it straight out with the spare quilt cover set. You could also look at having a quilt cover and quilt for your winter colder month plus a coverlet of comforter set for your summer months.
How do you put a quilt cover on?
So to put my quilt cover on, I'm standing on the base of my bed and it sort of folded back towards me as an accordion. So in front of me was like it's folded up, back and over.
And then I put the quilt cover in front of that, so it's further forward and I then take the corner of the quilt that's at the top on the right hand side and I feed that with my hand all the way through to the top right hand corner. And I just take it out a bit and lay it flat. So it won't move if you're not too rigorous with it when you're doing the next corner.
So again I repeat the process, I grab the left corner, I've used my right hand. I use my left hand to pull it through the quilt cover towards the top. And then I take then two top corners now that are in the quilt cover and I shake them out I guess a little bit, lay it back down and come back to the base of the bed and just re adjust the bottom. So get the bottom corner into the two corners into their corners and before I do it up, I actually then shake it out. And then I will seal it up with And Ihave a super king cover. So if it works with that, it can work with anything.