International teachers of pop
Brudenell Social Club, Leeds.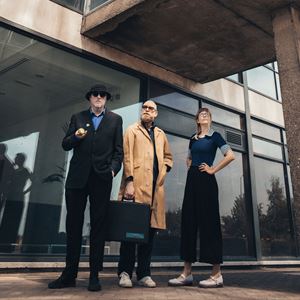 More information about International teachers of pop tickets
INTERNATIONAL TEACHERS OF POP – (New DISCO project from The Moonlandingz founders.) – Announce first UK TOUR.
Plus guest support... VIAGRA BOYS
The Moonlandingz founders/ co-songwriters,Adrian Flanagan (Eccentronic Research Council) & Dean Honer (All Seeing I) have teamed up with singer Leonore Wheatleyof Nottingham's library psych group, The Soundcarriers (Ghost Box)for an exciting new 'nerd disco'project called INTERNATIONAL TEACHERS OF POP and they are now taking it for a short tour around the UK.
The group formed early in 2018 at a'Circuit Bending' workshopin a school in Valhalla Dale, South Yorkshire where Leonore teaches Music.
Their first live appearance was in a cave in Derbyshire (The Devils Arse) on invite from the Lord mayor of South Yorkshire and misshape pop, JARVIS COCKER.
A month later, after an A&R scramble post a triumphant BBC 6 MUSICradio session for Marc Rileythey signed an album and singles deal with Republic of Musicto release their music on their own imprint, DESOLATE SPOOLS.
In the past weeks I.T.O.P. have been wowing crowds at the prestigious Somerset Housewith another Sheffield outsider Pop Legend, Roisin Murphyand packing out tents at Bluedot Festivalat Jodrell Bank with festival appearances at Greenman Festivaland Electric Fieldsaugmented by a full live group including the throbbing disco beat of Moonlandingzdrummer, Rich Westley along with arts, crafts and pottery expert, Katie Mason on additional vocals and interpretivedance.
International Teachers of Pop debut single 'AGE OF THE TRAIN'has just hit the radio and is already picking up traction with BBC 6 MUSIC.
https://soundcloud.com/the_e_r_c/age-of-the-train-international-teachers-of-pop-1
WHAT CAN WE EXPECT from the tour?
Adrian Flanagan "Heavily Greased souls, tunes catchier than a cold, all Travolta's moves, a bit of lecturing, a bit of hectoring, crabsticks instead of glowsticks, a crotch full of mirror balls and something that resembles wild abandon. In short, pure escape from your Brexit nightmare and ridiculous self centred ambition…you must submit yourself verily to the nerd disco.. and Thus become more united than the UN !"
"Rita, Sue & Bob too meets The Human League!"
"Demented parallel universe popstars."
THE QUIETUS
"A mesh of bedroom dance moves and infectious pop melodies."
The Guardian
Facebook:https://www.facebook.com/internationalteachersofpop/
Twitter:https://twitter.com/teachersofpop