Isy Suttie: Jackpot Tickets
The Glee Club, Cardiff.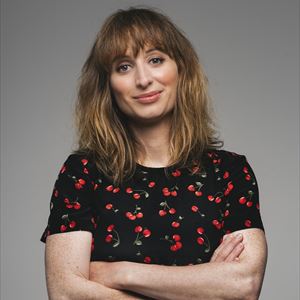 SEATING IS ALLOCATED - Seating will be allocated by venue staff before the show. Please call the Glee Box Office on 0871 472 0400 or email info@glee.co.uk to be seated with other ticket holders or if you have any seating requests.
This event will be sold to full capacity, with no distancing. Full COVID-safety guidelines available here.
Last Entry Time: 7:30pm
All under 25s may require government-issued photo ID.
For single tickets visit Glee.co.uk or call the Box Office on 0871 472 0400
This event is for 16 and over - No refunds will be issued for under 16s.
More information about Isy Suttie: Jackpot tickets
Ever since she can remember, Isy has been searching for ways to make her life more exciting: ouija boards, exploring derelict houses and jumping off things for a bet. She often meets others who share the same love of pushing the boundaries: the Welsh taxi driver who found a mischievous way of brightening up his day, and a neighbour who created a network of tunnels beneath his house just for the fun of it.
Now, things have changed: she's got children of her own and a partner who detests surprises. In her return to live stand-up, she asks whether it's enough to try and find that buzz on mums' weekends away or on family walks in the woods, and quite why she continues to hunt for it at all costs.
As seen as Dobby in Channel 4's Peep Show, Esther in Shameless, Ally in Man Down, on Would I Lie To You, 8 Out of 10 Cats, Hypothetical, Q.I. and much more, Isy has been nominated for three British Comedy Awards, and won a gold Sony Award for her BBC Radio 4 series Isy Suttie's Love Letters. The paperback of her second book, Jane Is Trying, was released in spring 2022.
'Suttie's eye for revealing detail yields plenty of laughs" – The Guardian
'The perfect concoction of warmth and grit – The Independent