IVW 2022: Pom Poko Tickets
The Boileroom, Guildford.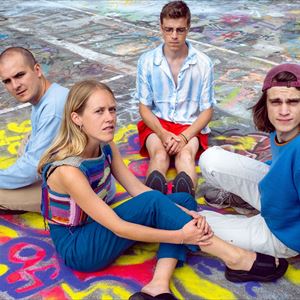 This event is for 1 and over - No refunds will be issued for under 1s.
More information about IVW 2022: Pom Poko tickets
"If you have a vacancy for Favourite New Band, Pom Poko would like to apply for the role," tweeted Tim Burgess in April, as Norway's finest punk-pop anti-conformists revisited their joyous debut album, Birthday, for one of Tim's mood-lifting Twitter listening parties. Pom Poko pimp their CV on all fronts with their glorious second album, Cheater, due for release 6th November via Bella Union and available to preorder here. Between the quartet's sweet melodies, galvanic punky ructions and wild-at-art-rock eruptions, Cheater is the sound of a band celebrating the binding extremes that make them so uniquely qualified to thrill: and, like Tim's listening party, to fulfil any need you might have for a pick-you-up.
As singer Ragnhild Fangel explains of the leap from Birthday to Cheater, "I think it's very accurate to say that we wanted to embrace our extremes a bit more. In the production process I think we aimed more for some sort of contrast between the meticulously written and arranged songs and a more chaotic execution and recording, but also let ourselves explore the less frantic parts of the Pom Poko universe. I think both in the more extreme and painful way, and in the sweet and lovely way, this album is kind of amplified."
Both sonically and thematically, that sense of amplification asserts itself right off the bat with the tearaway title-track. Bursting into life on the back of a blast of fractious guitar noise, a thrashing riff and a sweetly sardonic vocal, "Cheater" laces its serotonin rush with tangy lyrics about dreams and, says Ragnhild, the kind of "cheating kid who doesn't understand why they didn't get things exactly like they wanted on their first try": thematic motifs that reverberate throughout the album.

Sunken

Formed in 2017 after a conversation about "reverb on bass", their sound has slowly progressed to never include reverb on bass. After releasing the EP 'Hometime' in 2020, the band are finishing the follow up.

Hallan
Hallan are a Portsmouth-based four piece who write and rehearse in an 18th-century fortification built into the side of a hill and surrounded by a forest. It's within these dramatic surroundings that frontman, Conor Clements channels the frustrations, insecurities and events of early adulthood into his lyrics. Which are littered with observational poetry and messages of reassurance that you're not alone in this overwhelming world. With the band drawing influences from the people they cross every day – in the supermarket aisles, on your Facebook feed, next door neighbours. Hallan observe and commentate on British life via an Orwell-influenced bleak vision of the future and the cut-up style of Burroughs and other beat generationers.
Hallan have already started to build an army of local fans. Their last headline show sold out so quickly in advance that the support acts weren't allowed any guests and having supported the likes of Porridge Radio and Sports Team, the future looks bright for the seaside town's exciting, young act.