Izal
Bizkaia Arena (BEC), Bizkaia.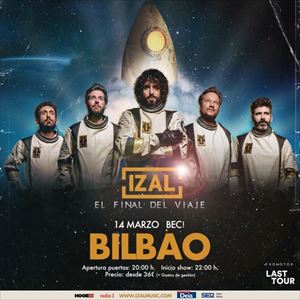 Some or all of the items for this event require you to enter a promotional code
Please enter your details below to buy tickets.
More information about Izal tickets
IZAL en el BEC de BILBAO el próximo 12 de septiembre.
Concierto Tour: EL FINAL DEL VIAJE - AUTOTERAPIA VOL.2
COMUNICADO DE IZAL - NUEVA FECHA CONCIERTO BILBAO: 12 SEPTIEMBRE | BIZKAIA ARENA - BEC!

Con muchísima pena y dada la situación excepcional en la que nos encontramos, hemos decidido aplazar también las fechas del resto de conciertos de "El final del viaje".
Mismos recintos y horarios. Las entradas ya adquiridas son válidas para las nuevas fechas.

El concierto del 14 de marzo se aplazó al 6 de junio pero, dada la situación, tanto la promotora Last Tour como la banda creemos que es mejor posponerlo para asegurar que se pueda realizar correctamente. Las entradas son válidas para el 12 de septiembre, nueva fecha.

En caso de no poder asistir, podéis poneros en contacto con See Tickets para la devolución de las entradas, hasta el próximo 26 de marzo inclusive. Todos los compradores recibiréis un email con la información detallada.

Lamentamos mucho las molestias ocasionadas y esperamos poder veros en las nuevas fechas para poder hacer el fin de gira como se merece. Estamos deseando poder volver a la normalidad, pero toca ahora mismo tener paciencia y responsabilidad.

Ánimo a todos y gracias por la comprensión.
Abrazo enorme de todos los IZAL

La venta de entradas se mantiene con normalidad.
Todo historia tiene un final y el de ésta... ha llegado. La gira Autoterapia de IZAL, tras visitar más de 70 ciudades a bordo de una nave a la que se han subido más de 500.000 almas desde el lanzamiento del álbum, llega a su fin. Una historia como esta necesitaba un final a la altura, un fin de fiesta por todo lo alto o, mejor dicho, siete.
El fin de gira Autoterapia visitará siete únicas ciudades en febrero y abril con un nuevo repertorio y un nuevo hilo narrativo, lleno de sorpresas y apariciones estelares. Además, como ya hicieran Miren Ibarguren, Kira Miró y Julián López en la primera entrega de la historia, nuevos actores darán vida a esta segunda y última parte del viaje de los comandantes Izal, Mella, Jordá, Pérez y Pérez.
Granada, Barcelona, Zaragoza, Bilbao, Murcia, Valencia y Madrid son los destinos finales de esta aventura, tras la cual el quinteto de viajeros espaciales se tomará un merecido descanso. Estos conciertos serán, por tanto, los últimos que el grupo ofrecerá en España en 2020 y prometen ser una fiesta de despedida por todo lo alto en honor a un álbum (Autoterapia, 2018, HOOK Ediciones Musicales) que tantas alegrías les ha dado.
ENTRADAS YA A LA VENTA


Puedes descargar aquí la autorización de menores