Jäger Curtain Call & DIY present Lady Bird
Moth Club, London.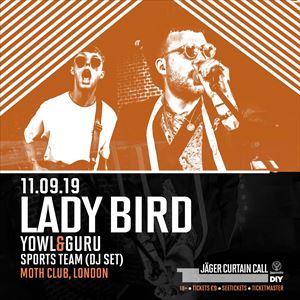 This event is for over 18s only - No refunds will be issued for under 18s.
More information about Jäger Curtain Call & DIY present Lady Bird tickets
Lady Bird, a three piece punk act with a storytelling twist, kicked off 2018 announcing themselves as the first ever signing to punk duo slaves girl fight records. Formed by three friends out of the manic scene around the tunbridge wells forum, the band mix up aggressive, riff heavy rock with a sophisticated literary vibe as singer Sam spits tales of suburban disquiet and everyday life. Live, the band are a force to be reckoned with, like a combination of The Streets, Ian Dury and Blur. Joe Walker (drums) and Alex Deadman (guitar) lay down a frantic, punk rock backbeat, while Sam stares straight into the eyes of his audience to both inform and intimidate in equal measure.
https://www.youtube.com/watch?v=NV81BZ1TkpE
https://www.facebook.com/thisisladybird/?ref=br_rs

This show is part of the Jager Curtain Call campaign in association with DIY music.
Back in 2015, DIY teamed up with Jägermeister to launch Jäger Curtain Call, a project designed to lend a hand to bands at an undeniably important point in their careers. Launched on Curtain Road in London - the home of many iconic labels, studios and venues - Jäger Curtain Call was about providing bands with the opportunity - whether that be through recording, making videos or playing gigs - to make their next step really count.
Since then, the programme has gone from just existing on the East London road to a project that takes artists to record a live track straight to vinyl at Soho radio, give them a coveted spot on the DIY Jagerhaus stage at All Points East.
http://diymag.com/2019/06/03/health-crows-lady-bird-and-more-storm-all-points-east-at-diy-and-jager-curtain-calls-jagerhaus-takeover
Artists are then granted access to a studio to record a track to be specially released for the programme. DIY then takes the project on a road trip around the UK - this year visiting Liverpool, Bristol and London, in which each artist will play a hometown gig and premiere the single that was recorded as part of the programme.
More information on the campaign can be found here;
http://diymag.com/search/results?q=jager+curtain+call