Jäger Curtain Call & DIY present Zuzu
Phase One, Liverpool.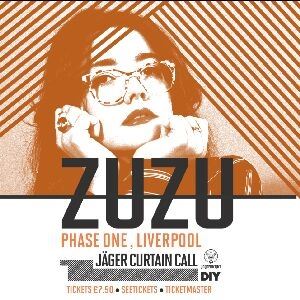 This event is for over 18s only - No refunds will be issued for under 18s.
More information about Jäger Curtain Call & DIY present Zuzu tickets
Zuzu is the definition of a millennial artist; a visibly confident front person, songwriter, producer, director, actor and comic book illustrator; starring and orchestrating all her videos, recording a considerable amount of her music at her home studio in Liverpool.
Her boundary-pushing mentality feeds into the psyche of the city which has long been imbued with a spirit of fierce independence, unwavering loyalty and creative genius. All the same magic that defined the likes of The La's, Echo & The Bunnymen, The Zutons, The Coral and Cast are visible in Zuzu's music, which, to some degree, are indebted to her surroundings; a city of jesters, jongleurs, troubadours, artists, poets and visionaries.
Website: https://www.thisiszuzuofficial.com
Facebook: https://www.facebook.com/thisiszuzu/
Youtube: https://www.youtube.com/channel/UChRhEl9RiSWrgftUNCtM3lg
This show is part of the Jager Curtain Call campaign in association with DIY music.
Back in 2015, DIY teamed up with Jägermeister to launch Jäger Curtain Call, a project designed to lend a hand to bands at an undeniably important point in their careers. Launched on Curtain Road in London - the home of many iconic labels, studios and venues - Jäger Curtain Call was about providing bands with the opportunity - whether that be through recording, making videos or playing gigs - to make their next step really count.
Since then, the programme has gone from just existing on the East London road to a project that takes artists to record a live track straight to vinyl at Soho radio, give them a coveted spot on the DIY Jagerhaus stage at All Points East.
http://diymag.com/2019/06/03/health-crows-lady-bird-and-more-storm-all-points-east-at-diy-and-jager-curtain-calls-jagerhaus-takeover
Artists are then granted access to a studio to record a track to be specially released for the programme. DIY then takes the project on a road trip around the UK - this year visiting Liverpool, Bristol and London, in which each artist will play a hometown gig and premiere the single that was recorded as part of the programme.
More information on the campaign can be found here;
http://diymag.com/search/results?q=jager+curtain+call