JANET KAY & CARROLL THOMPSON
229, London.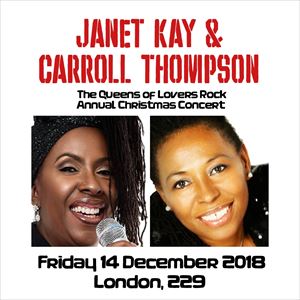 More information about JANET KAY & CARROLL THOMPSON tickets
AGMP presents
JANET KAY & CARROLL THOMPSON
The Queen's of Lovers Rock announce their annual London Christmas concert.
Janet Kay is best known for the Dennis Bovell produced track "Silly games" which went to Number 1 in the National UK charts in 1979. This was the first time a British born black female hit the top of the charts. Janet Kay had already had many underground hits on the Reggae charts prior to this with tracks such asd "Loving you", "That's what friends are for", "I do love you" and more.
Carroll Thompson first found fame with the Reggae Smash "I'm so sorry" and had a slew of hits such as "Hopelessly in Love", "Make it with you", "Love won't let us wait" and "I'm still waiting".
+ Lovers Rock Sound System DJ's