Jazzland Sessions: Malcolm Strachan Sextet
Brudenell Social Club, Leeds.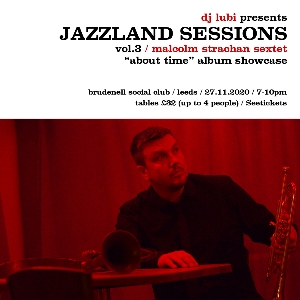 Table bookings only : up to 4 persons per table - all tickets must be pre-booked
All tickets are seated only, capacity is very limited.
Tickets are only available to pre book via our links advertised on our site and will be digital only.
All seats sold are allocated, we will auto allocate your seating.
Compliant with current government guidance we will follow all current restrictions for events and hospitality.
On arrival digital tickets will be shown to greeter who will show customers to their seats.
Sanitiser stations can be found throughout the building, we encourage all customers to use these at regular intervals. If going to use the toilets.
Face masks are mandatory when moving around the venue, you will need to bring your own, we will not provide PPE for patrons.
Once seated you may remove your face mask if you choose to.
Adhering to government guidelines, standing, dancing and singing along at volume during the event is not permitted.
If you do not follow to this guidance, you may be asked to leave.
The venue will be sanitised, and covid cold-fogged prior to performance.
Please DO NOT attend the event if you have symptoms of COVID-19.
For further information on the venue's safety measures, visit the venue website.
By purchasing tickets you agree to the above terms and conditions.
More information about Jazzland Sessions: Malcolm Strachan Sextet tickets
DJ LUBI PRESENTS
JAZZLAND SESSIONS Vol 3
Malcolm Strachan Sextet
"About Time" album showcase
Jazzland Sessions are a series of limited capacity, all seated, COVID-19 compliant jazz concerts at Brudenell Social Club Community Room curated by longtime Leeds jazz music promoter and DJ Lubi Jovanovic aka DJ Lubi. They are proving to be hugely popular and selling fast and to capacity quickly. Here is the third installment.
Jazzland Sessions Vol 3 is on Friday 27th November and features one of Leeds's favourite musicians, trumpeter Malcolm Strachan from internationally acclaimed funk band The Haggis Horns. For this concert, he's giving the funk a rest while he returns to his first musical love, jazz music. In spring 2020, after 21 years as a professional musician, Malcolm finally released his debut solo album "About Time" on Haggis Records and the critical and sales response was huge. Radio plays and reviews from across the UK and internationally, including "Album Of The Week" on Jazz FM. A series of live shows were being planned to promote the album when COVID-19 shut down all live music venues so this band on the album have never played the songs live in concert. Until now.
Here's a quick biography about the artist.
Scottish trumpeter Malcolm Strachan is a founder member of top UK funk/jazz-funk band The Haggis Horns as well as being one of the busiest session musicians in the UK. In a professional career spanning 20 plus years, he's recorded and toured with the likes of Mark Ronson, Amy Winehouse, Corinne Bailey Rae, Jamiroquai, Martha Reeves and The Vandellas, Jess Glynne, The Craig Charles Fantasy Funk Band, Black Honey, The New
Mastersounds and Blue Note Records jazz saxophone legend Lou Donaldson. He finally released his first solo album, aptly titled "About Time", on Haggis Records in March 2020 and went back to his original musical roots.....jazz.
The album is a collection of original compositions, all written and arranged by Malcolm, which are firmly rooted in the classic acoustic modern jazz style typified by the great 60s and 70s recordings on the legendary Blue Note Records label. From full-on modal jazz to Latin vibes, beautiful ballads and soul jazz grooves to cinematic soundtrack flavours, all woven together perfectly by a great group of experienced musicians who have been working with Malcolm for decades in The Haggis Horns and other bands and line-ups..
Malcolm Strachan Sextet for this show are : Malcolm - trumpet/flugelhorn, Athol Ransome - tenor sax/flute, Danny Barley - trombone, George Cooper - piano/keys, Courtny Thomas - double bass, Erroll Rollins - drums.
Athol, George and Erroll are all fellow Haggis Horns band members, Courtny is a longtime musician friend from Malcolm's Leeds College Of Music days and Danny is one of Leeds's busiest and best jazz trombonists. Special guest artist for this show is alto saxophonist Rob Mitchell, another fellow Haggis Horns member and also band leader of hip-hop/jazz big band The Abstract Orchestra.
Jazz is back for Malcolm and this concert is a special one for him as it's the first live show ever where he presents his debut album material. The band will play 2 sets. Not to be missed if you love contemporary or classic jazz.
Before and between sets, Leeds jazz DJ legend Gip Dammone (DIG Family) will be playing some classic and new jazz tracks, strictly vinyl of course.
This concert will fully comply with existing government COVID-19 safety regulations. You can check these at the venue's website.
Tickets £32 per table
Table bookings only : up to 4 persons per table - all tickets must be pre-booked.

***if government COVID-19 rules change regarding public places and venues are closed again, this event will be postponed and rescheduled to a later date and all tickets sold will be valid for a new date***