JCQ - John Coghlan's Quo
The Northcourt, Abingdon.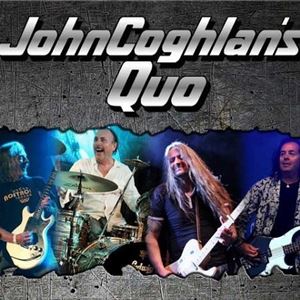 More information about JCQ - John Coghlan's Quo tickets
The living musical legend that is John Coghlan is bringing his band to The Northcourt in a show jam packed with all the great Status Quo hits. When the 'Frantic Four' were at their height right from their first hits in the late sixties through to the early eighties the man holding it all down at the back was the great John Coghlan, His partnership with Alan Lancaster on bass was something to behold. Now John has turned the clock back and is touring the UK and beyond with the back catalogue of Quo materiel that he helped create. His own band John Coghlan's Quo harks back to that great line up and is itself a real force to be reckoned with. Their deliveries of Down Down, Caroline, Paper Plane, Roll Over Lay Down, Rain, Down The Dustpipe, Rockin' All Over The World and all the rest truly hit all the spots and no Quo fan will leave unhappy once John and the lads have rocked you to the core.