Jennifer Walshe & Neil Luck present WACK Tickets
St Matthias Church, London.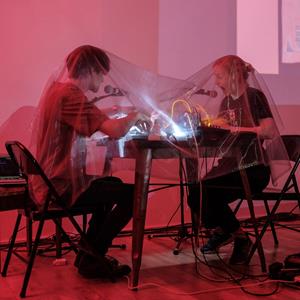 This event is for 18 and over - No refunds will be issued for under 18s.
More information about Jennifer Walshe & Neil Luck present WACK tickets
Between The Lines presents two unique duo performances by some of the most innovative composer-performers in modern music.


Mariam Rezaei & Alya Al Sultani

Jennifer Walshe & Neil Luck present WACK


Dramatic soprano, composer and improvising vocalist Alya Al-Sultani joins experimental turntablist and composer Mariam Rezaei to bring their duo performance back after its debut in Cafe Oto last year. Eschewing stereotypes, their unique collaboration warps and weaves elements of opera, hip-hop, noise and free improv together. Al-Sultani and Rezaei play with Middle Eastern poetry, vocal improv and instrumental samples in a free-form collaboration that will push at the boundaries of two turntables and one microphone.

Mariam and Alya come from different but overlapping disciplines. After growing up as a classically trained pianist, Mariam has built a reputation over time as a prolific turntablist, DJ and improvisor, never shying away from interdisciplinary and experimental projects. Alya meanwhile is a British-Iraqi soprano, but has spent the last few years integrating improvisational techniques, microtonal ideas and Eastern influences in her music.

Their last performance together was recorded and released on Cafe Oto's Takuroku label - one of the highlights of its catalogue of 200+ lockdown era albums. Together their dexterous lungs and nimble fingers birth forms that dance in and out of each other: shifting, soaring, dipping, diving, but never sitting still.

Meanwhile in an experiment in technological occultism, Jennifer Walshe and Neil Luck use arcane and modern sound recording technology, projections, voices, objects and texts to divine meanings, messages, and narratives from the detritus of everyday informational noise.
Jennifer has been hailed as 'The most original compositional voice to emerge from Ireland in the past 20 years' (The Irish Times) and 'Wild girl of Darmstadt' (Frankfurter Rundschau), having received fellowships, prizes, and commissions from the Foundation for Contemporary Arts, New York, the DAAD Berliner Künstlerprogramm, the Internationales Musikinstitut, Darmstadt and Akademie Schloss Solitude, the BBC Scottish Symphony Orchestra and also the Lithuanian State Symphony Orchestra, among others. Most recently she was appointed Professor of Composition at University of Oxford, and had her work profiled by Alex Ross in The New Yorker.

Neil Luck has written for a range of soloists and ensembles in the UK and abroad, and presented work at music venues, festivals and galleries internationally including the ICA, Kings Place, Whitechapel Gallery, Tate Britain, Tate Modern, LSO St. Lukes, BBC Cut&Splice festival, in Lithuania and Denmark as part of their Capital of Culture celebrations, the Tokyo Experimental Festival, and on BBC Radio 3. He is the founder of the music-theatre ensemble ARCO, and co-founder of squib-box alongside Adam de la Cours and Federico Reuben.
For their collaboration WACK, the audience is invited to experience the performers dredging gnomic readings of real and artificial matter from new and old words, deep audio files, and personal belongings.